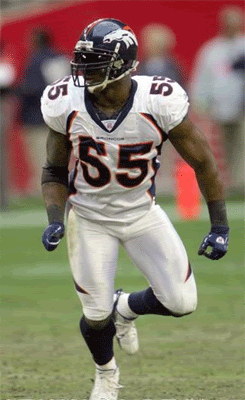 Adam Schefter of NFL Network is reporting that the Broncos have extended the deal of linebacker D.J. Williams.  The first round pick of the Broncos back in 2004, Williams has played in every game since his rookie year (64) and has 388 total tackles, 141 last season, and 1 sack.
Schefter says that the deal is a five-year, $32 million dollar extension, with $13 million in guaranteed money.  He was due to become a free agent at the end of this season, but now will is signed with the team through the 2013 season.  Williams is now the highest-paid linebacker in NFL history without a Pro Bowl appearance.
Williams, whose base salary is $850,000 this season and counts $1.626 million against the salary cap.