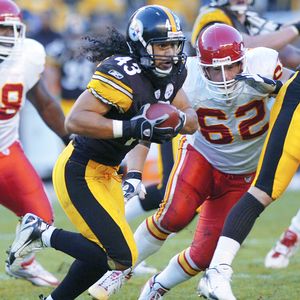 By Andy Benoit, www.NFLTouchdown.com
Predictions
They return essentially the same defense that ranked No. 1 last year, plus they have several promising new weapons on offense.
The trendiest pick in football this season. A division title is within reach, but what happens if Jamal Lewis or one of the defensive backs goes down?
It's nothing but chaos here. There's enough talent for a playoff run, but that hasn't seemed to matter the past two seasons.
Too much transition taking place for a team with this kind of quarterback situation.
Best Offseason Move
The Bengals calling Chad Johnson's bluff. Perhaps they would have been better off trading the disenchanted star, but wasn't it nice to see them not give any power to Ocho Cinco?
Worst Offseason Move
The Steelers letting Alan Faneca walk away.
Biggest Question
Are the Browns ready to capitalize on their '07 success and finally take a quantum leap into the postseason?
Quick Hits
Team Bests
Passing Game 1 Bengals, 2 Browns, 3 Steelers, 4 Ravens
Running Game 1 Steelers, 2 Browns, 3 Ravens, 4 Bengals
Offensive Line 1 Browns, 2 Bengals, 3 Steelers, 4 Ravens
Pass Rush 1 Steelers, 2 Ravens, 3 Browns, 4 Bengals
Run Defense 1 Steelers, 2 Ravens, 3 Browns, 4 Bengals
Pass Defense 1 Ravens, 2 Steelers, 3 Browns, 4 Bengals
Special Teams 1 Browns, 2 Ravens, 3 Steelers, 4 Bengals
Coaching Staff 1 Steelers, 2 Browns, 3 Bengals, 4 Ravens
Front Office 1 Browns, 2 Ravens, 3 Steelers, 4 Bengals
Home Field Advantage 1 Steelers, 2 Browns, 3 Ravens, 4 Bengals
Player Bests
Pure Athlete Josh Cribbs, Browns
Big Play Threat Ed Reed, Ravens
Gets Most out of Talent Hank Fraley, Browns
Gets Least out of Talent Ahmad Brooks, Bengals
Breakout Prospects Santonio Holmes, Steelers
LaMarr Woodley, Steelers
Ben Grubbs, Ravens
Breakdown Prospects Willie Anderson, Bengals
Joe Jurevicius, Browns
Corey Ivy, Ravens
Best Leader Ray Lewis, Ravens
Unsung Hero Reggie Kelly, Bengals
Impact Veteran Acquisition Corey Williams, Browns
Impact Rookie Keith Rivers, Bengals
ALL-AFC NORTH TEAM
Offense
QB Carson Palmer, Bengals
RB Willie Parker, Steelers
FB LeRon McClain, Ravens
WR Chad Johnson, Bengals
WR Braylon Edwards, Browns
TE Kellen Winslow, Browns
LT Joe Thomas, Browns
LG Eric Steinbach, Browns
C Jason Brown, Ravens
RG Kendall Simmons, Steelers
RT Willie Colon, Steelers
Defense
DE Corey Williams, Browns
NT Casey Hampton, Steelers
DE Haloti Ngata, Ravens
OLB Terrell Suggs, Ravens
ILB Ray Lewis, Ravens
ILB Bart Scott, Ravens
OLB Kamerion Wimbley, Browns
CB Chris McAlister, Ravens
FS Ed Reed, Ravens
SS Troy Polamalu, Steelers
CB Leon Hall, Bengals
Specials
K Phil Dawson, Browns
P Daniel Sepulveda, Steelers
RS Joshua Cribbs, Browns
ST Brendon Ayanbadejo, Ravens