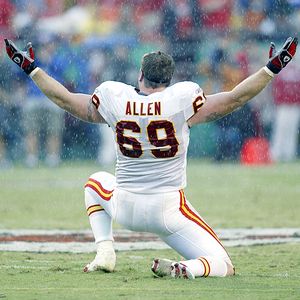 Pro Bowl defensive end Jared Allen was traded from Kansas City to the Minnesota Vikings, making the Chiefs one of the major players in the NFL Draft.
Former Chiefs player, Jared Allen, has agreed to terms with the Minnesota Vikings on a contract that makes him the highest paid defensive player in NFL history, exceeding the deal the Colts gave to Dwight Freeney last year. The 6 year deal is just under $74 million, including $31,000,069 guaranteed. Kansas City gets Minnesota's first-round pick and both of the Vikings' 3 round selections. Both teams will swap 6 round picks.
Getting Allen is a big move for the Vikings and gives them the best defensive line in the NFL. Allen joins fellow Pro Bowlers Kevin and Pat Williams as well as Ray Edwards. Allen had an NFL best 15 1/2 sacks last season despite being suspended the first 2 games.
This deal means the Chiefs will have 2 first round picks and a slew of additional selections for the draft. Now that Allen is out, the Chiefs might shoot for Ohio State defensive end, Vernon Gholston, if he's still on the board when the Chiefs select at Number 5.
Allen's deal is a high salary for the Vikings, who were 8-8 last year. Although, defensive end was important to them after losing Kenechi Udeze to leukemia and with 1st round pick Erasmus James coming off a 3rd knee surgery. Allen will work with Pro Bowlers Kevin Williams and Pat Williams to form strong defensive line.
The Vikings conducted an extensive background check on Allen, who missed 2 games last year for being suspended on 2 DUI charges. They wanted to make sure Allen would be a model citizen and all accounts came back positive.
Allen is 26 years old and in his prime. He was a supplemental 4th round pick by the Chiefs out of Idaho State in 2004. He quickly established himself as a top-flight pass-rusher. However, he also has a tendency to over-pursue and sometimes gets out of position on running plays. He was recognized as the premier defensive player in NCAA Division I-AA as a senior but fell to the 4th round because of character problems. Last year he was suspended for the first 2 games because of multiple DUI's. If he gets any more, he could be suspended for a whole year.
Bet on NFL football and other sports at i-Sportsbook.com.