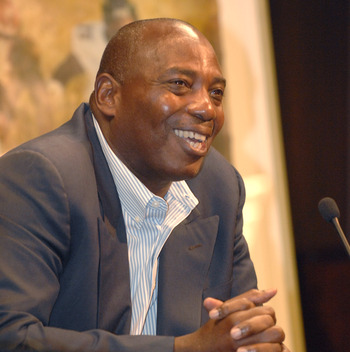 The Ravens roster will go through some changes before the Free Agency period begins on March 13th.
General Manager Ozzie Newsome told reporters last Friday at the NFL Scouting Combine that the team plans to cut some players and shed unwanted salary before that date. The Ravens are currently using about $116.32 million against a projected salary cap of $120 million for next season. It also appears that the team will probably use the Franchise tag on running back Ray Rice which would be 7.7 million by March 5th.
So where could the Ravens find some cap relief?
They could part ways with cornerbacks Domonique Foxworth ($8.6 million salary-cap figure) and Chris Carr ($3.45 million salary-cap figure) and wide receiver Lee Evans ($5.6 million salary-cap figure).
Foxworth's surgically repaired knee isn't progressing well and will meet with Newsome later this week to discuss his football future. Carr, who was injured most of last season will most likely be deemed expendable at this point with the emergence of Lardarius Webb, Cary Williams and Jimmy Smith at corner. Evans, one of the goats of the AFC Championship game, had an injury filled 2011 too.
But he could still return if the Ravens would choose to re-sign him at a more cap-friendly wage. The team is still exploring options for the third receiver position for next season but are unlikely to make a splash in a deep wide receiver pool this off-season. That means Evans may get another chance or the team will look to the draft.