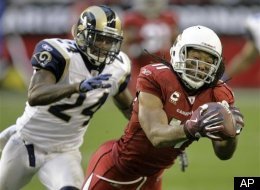 Don't look now, the Rams are missed chip shot field goal from going 0-3 while facing Arizona, Cleveland and Seattle.  This season keeps getting better and better!
TV
Since, no one else in the country besides St. Louis and Arizona will be interested in watching this game, that is where it will be playing. Maps here.
What to Watch For
Mr. Bradford – Bradford is getting worse and worse as the ever present losing begins to erode his confidence, ability and slowly and surely turns him into Marc Bulger.  Bradford looks frustrated on the sideline, before the game, after the game and after half of his passes do not hit his intended target.  The Rams number 1 focus should be to get their huge investment to fulfill his huge potential.  So far they have failed miserably.
Steven Jackson – The Rams did not get much traction from Jackson against Seattle due to two backups and one third stringer in the game and Seattle's good run defense.  The Rams didn't even bother to try to give the ball much to Jackson and without him and the running game, their league-worst passing offense did its usual implosion routine.  Look for Jackson to be more involved against the Cardinals.
Strike While The Iron Is Hot – The Rams offense is really good as spoiling great field position.  But, if they are going to have any success this season, they will have to take advantage of their defense giving them a short field.  If they continue to turn 3+ expected points into 0, they will not win very many games.
Kolb? – The Rams made John Skelton look like John Elway in the last meeting between these two teams, just 3 weeks ago.  After a poor outing against the 49ers and Kolb's injury healing, the Rams may face Kolb instead.  The Rams may be better off with the less-than-mobile Kolb coming off a foot injury.
Home Sweet Home – Last week's "effort" proves that the Rams can play just as bad at home as they can on the road.  This being Thanksgiving weekend and one of the busiest travel days of the year, look for the Dome to be half full of sleepy Rams fans and some boisterous Cardinals fans.
Special Teams! – The Rams momentum turned to the opposing sideline again last week with a few long returns by Leon Washington on bad punts and moronic moves by Austin Pettis to catch a punt inside his own 1 yard line.  The Rams offense is not going to win any games alone and it's lack of punch slowly tires down the defense, so the Rams are not able to turn momentum themselves.  The Rams will have to find some big plays in Special Teams to knock off any team through the rest of their schedule.
Go Rams!