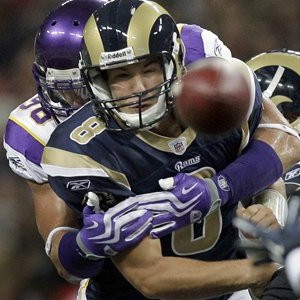 When we look at Sam Bradford, the NFL quarterback, one of the highest paid players in the NFL, we see an incomplete quarterback because Bradford has failed to develop as a quarterback in his time in the NFL.  When we look at Sam Bradford right now, here's what we see far too often.
Bradford staring down his number 1 read on each play and getting the ball knocked down by a defensive lineman.  (You know if a defensive lineman can read your eyes, you are being too obvious.)
Sam Bradford throwing "stick" throws to the outside and middle of the field too late so that they can easily be knocked down by a defender.
Sam having trouble being accurate when the pass rushers are able to move him off his spot in the middle of the pocket.
The Rams franchise quarterback is having a dreadful time against the blitz in which he appears to panic or wait far too long for a play to develop down the field.
Bradford taking far too many sacks because he does not have the confidence in himself or his receivers to get the ball down field.
Alternately, Bradford will check down to the short receiver in front of the 1st down marker, even on 3rd down.
The good news is that a lot of these problems can be fixed through teaching and coaching and an improved offensive line.  However, the bad news is that why are the Rams not teaching Bradford simple things about how to look through his progressions or too not stare down a receiver?
The other hypothesis that I have is that Bradford already knows how to do all of those things, (which would make sense since that is high-school football training) but is overwhelmed with how much information he has to digest and adjust at the line of scrimmage and once the ball is snapped.
Bradford is in charge of the Rams protection scheme at the line of scrimmage, whereas last year the center and offensive line were in charge of making adjustments at the line.  When you hear things about star quarterbacks like Tom Brady, his coaches say "the magic happens before the ball is snapped".  Or you see Aaron Rodgers run a hard count on every snap.  Not to get the defense to jump, but to get the defense to show their hand.  Part of the greatness of those two quarterbacks is not just their arms, but it is also their ability to diagnose a defense and get a defense to show their scheme as quickly as possible.
There is a reason that Sam Bradford has been at his best this year in the no-huddle offense, because that forces the defense to play a generic defense (easy to read and same every play) and slows down the pass rush (keeps Bradford on his spot and helps the offensive line block).
If Mr. Bradford is having trouble with his many responsibilities and the complicated routes and offense the Rams are running with offensive coordinator Josh McDaniels, the Rams need to simplify things for him.  
Chris Brown of Smart Football has a great look at the 49ers offense this year
which is making everything easy for former talented bust Alex Smith by putting a hot route in every play for an easy way to deal with the blitz.  So, instead of the receiver and quarterback both noticing the blitz and seamlessly switching to the hot route, all the routes are hard-coded in.
Sam Bradford is not a bust and the Rams should not attempt to draft Andrew Luck or any other quarterback.  But, the Rams need to help him improve by coaching him up and helping him gain confidence or simplifying things for him at the line of scrimmage and with reading defenses.  Whatever it is, Sam Bradford needs some serious help, because he is stagnant this season after all Rams fans hoping he would take a big leap forward in his 2nd season.