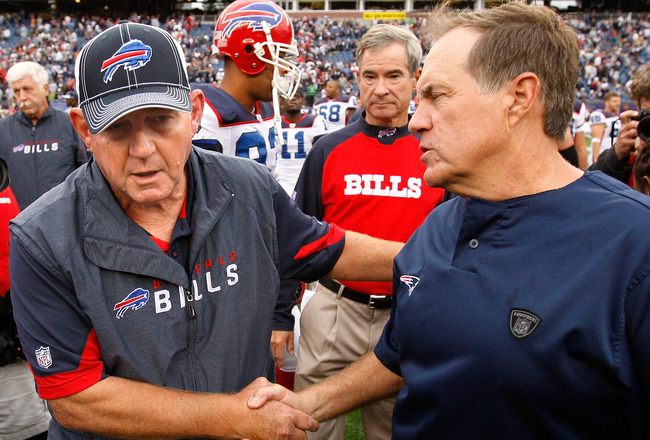 It didn't take much to generate a buzz throughout Western New York again.  An opening day romp and a thrilling comeback have the Buffalo Bills at 2-0 in an early season three-way tie for the lead in the AFC East.  The buzz just got taken up a notch with the New England Patriots coming to Ralph Wilson Stadium, as the Bills try to end their New England Nightmare.  The Bills are winless in their last 15 games against the Patriots, which is the third longest drought against one opponent in NFL history.
Surely this one won't come cheap or easy considering it's Tom Brady and Bill Belichick across the field.  They've tormented, tortured and embarrassed the Bills over the past eight seasons.  The reigning MVP is off to a torrid start and is on pace to throw for over 7,000 yards.  Ryan Fitzpatrick and Fred Jackson have rejuvenated the Bills' offense.  Now it's time to prove to the football world they belong on the same playing field as New England, something they haven't done too often in the past.
INJURY NEWS
BUFFALO:  The Bills will be without a trio of players:  CB Terrence McGee, LB Kirk Morrison and RG Kraig Urbik.  Continuing the theme of threes, WR Steve Johnson, DE Spencer Johnson and DT Torell Troup are listed as PROBABLE.  All three are expected to play.
NEW ENGLAND:   The Patriots enter the contest a banged-up bunch.  They'll be without TE Aaron Hernandez, OT Sebastian Vollmer, DE and S Patrick Chung and DT Albert Haynesworth have all been ruled OUT for today's game. A slew of players of listed as QUESTIONABLE:  CB Ras-I Dowling, LB Gary Guyton, LB Jerod Mayo, P Zoltan Mesko, WR Taylor Price, and C Ryan Wendell.  CB Kyle Arrington, S Josh Barrett, CB Leigh Bodden and LB Dane Fletcher are listed as PROBABLE.
KEY MATCHUPS
QB Tom Brady vs. Bills' pass defense.  There is no bigger matchup throughout this game.  There's been no bigger Buffalo killer than Brady.  In the past seven games at Buffalo, Brady has thrown 15 TDs to only 3 INTs.  During Buffalo's 0-for-the-last-15 streak, Brady has amassed 3,190 passing yards, 34 TDs and six picks.  In the past, the Bills have been able to get some pressure on Brady but it's never been consistent and it's never been good enough.  The best way to beat Brady is to try to confuse him with multiple looks, multiple defensive fronts and tons of pressure.  Both the Jets and the Giants have utilized that philosophy in the past and it has paid off.  Last week, the Bills didn't get any pressure against Oakland's Jason Campbell and he torched the Bills' secondary for 323 yards and two touchdowns.  Imagine what Brady will do if the Bills can't touch him.
RB Fred Jackson vs. Patriots' run defense.  New England's run defense, meet the league's No.1 rated rushing attack.  Buffalo is averaging a staggering 193 yards per game on the ground, led by Jackson who leads the NFL in rushing with 229 yards rushing.  Jackson has two rushing touchdowns while averaging 6.5 yards per carry.  The best way to neutrilize Brady and the high scoring Patriots offense is to keep them on the sidelines.  To accomplish that goal, the Bills need to have the running game going on all cyclinders moving the chains, gashing the defense and keeping drives alive.  Despite Buffalo's success through the air, New England will try to force the Bills to abandon the run and make them a one-dimensional offense. To do so, they'll need to bottle up Jackson.
RBs BenJarvis Green-Ellis and Danny Woodhead vs. Bills' run defense.    New England's top running duo returns this season and they feasted on Buffalo's run defense a year ago.  In two meetings (both Patriot victories), Green-Ellis and Woodhead ran for a total of 337 yards, three touchdowns and a 6.6 yards per carry.  Last year at Buffalo, New England ran for 217 total yards on the ground;  Green-Ellis ran for 104 yards on 19 carries while Woodhead gashed the Bills for 93 yards and a score on just 13 carries.  The Bills held Jamaal Charles and Darren McFadden to under 80 yards rushing in consecutive weeks.  But the Bills couldn't solve Oakland's screen passes and McFadden had seven catches out of the backfield for 71 yards.  Woodhead could be a problem matchup for the Bills.  He's a waterbug-type, very quick and elusive.  Buffalo couldn't stop the screens last week and I imagine that's something the Patriots picked up on film this week.  Like the Patriots, the Bills will look to take away New England's offensive balance and force the Patriots to attack strictly through the air.
TE Rob Gronkowski vs. LB Nick Barnett. Overshadowed by their woeful run defense in 2010, the Bills had just as much trouble in passing game against opposing tight ends.  Against bigger and athletic tight ends, the Bills had few answers for the likes of Jermichael Finley, Dustin Keller, Tood Heap and Marcedes Lewis.  That also goes for New England's tandem of Rob Gronkowski and Aaron Hernandez.  They combined for 13 catches, 162 receiving yards and three touchdowns.  While the Bills will be fortunate not to see Hernandez, who's out with an MCL sprain, Gronkowski remains a big headache.  He had all three touchdowns last year, including two at Ralph Wilson Stadium.  Without Hernandez, Gronkowski's targets are likely to further increase particularly in the red zone.
CB Drayton Florence vs. WR Wes Welker.  With the Bills still without CB Terrence McGee, the choices to cover Welker is pretty obvious.  Rule out rookie Aaron Williams.  I don't think Buffalo will throw him into the fire and assign him one of the top slot receivers in football.  After getting torched last Sunday by Oakland rookie wide out Denarius Moore, I don't want Leodis McKelvin anywhere near Welker.  That leaves Drayton Florence who is the Bills' best cover corner and essentially their best option to line up across from Welker.
GAME PLANS
BILLS:  Balance will be critical.  I think the Bills can take advantage of the Patriots' secondary just like Miami and San Diego have the past two weeks.  Buffalo has the weapons (Steve Johnson, David Nelson, Scott Chandler) to do so, but I think the best way to keep the ball away from Tom Brady's hands is a strong running game which makes Fred Jackson and also C.J. Spiller important factors.  The better the Bills can run it, the longer Brady will remain on the sidelines.  That also means third downs will be equally important.  Buffalo has been brutal on third downs against New England (18 % in past seven home games vs. Patriots).  If it's a third-and-long situation all afternoon, it'll be a rough day.  Make third downs manageable.  Defensively it's simple:  no pressure on Brady = no chance of winning.  Buffalo must get creative and try to confuse Brady with numerous looks and creative packages to rush the quarterback.  He's too smart and too ruthless.  If you're vanilla on defense, if he knows what's coming, it'll be a brutal three hours for your defense.  After getting smoked by Jason Campbell and the Raiders' passing game, the Bills' defense as a whole must deliver a game-changing bounce back effort.
PATRIOTS:  Very rarely does their formula for success on Sundays or Mondays ever change.  They've got the best quarterback in the business who's thrown for 940 yards and seven touchdowns in two games this season.  Brady has destroyed the Bills over the past seven seasons with various weapons.  While the Patriots will lean on the running game and balance out the offense, their at their deadliest when the ball is in Brady's hands.  Rob Gronkowski is a mismatch for any defense and given Buffalo's sketchy history neutralizing tight ends and the absence of Aaron Hernandez, he could have a big day.  The Patriots lack a big game pass rusher but they've still got Vince Wilfork and Bill Belichick seems to know all the right buttons to push.  Buffalo's offensive line has just as much to do with their 2-0 start as their offense, and it'll be up to the Patriots to get after Ryan Fitzpatrick and knock him to the turf and off his game for the first time this season
Prediction:  Patriots 33, Bills 20.  For starters, I don't want the Bills to "put on a good showing" or "play well so it's not a blowout".  I want them to win the damn game.  I'm sick of seeing the Bills beating treated like little brother who's constantly being bullied in the backyard by older brother.  To get back to where they once were, it's time to beat good football teams.  Now, with that aside I'd love to pick the Bills to pull off the upset in this spot.  I think they'll play well and give New England all they can handle, especially since New England's defense is banged up and they'll be missing key pieces on both sides of the ball.  This will the first time that Buffalo's crowd will be jacked and rowdy from the get go anticipating the Bills ending the 0-15 streak.  But in the end, like the previous 15 times, Tom Brady will prove to be a little too much for the Bills' defense and sadly, the streak continues.