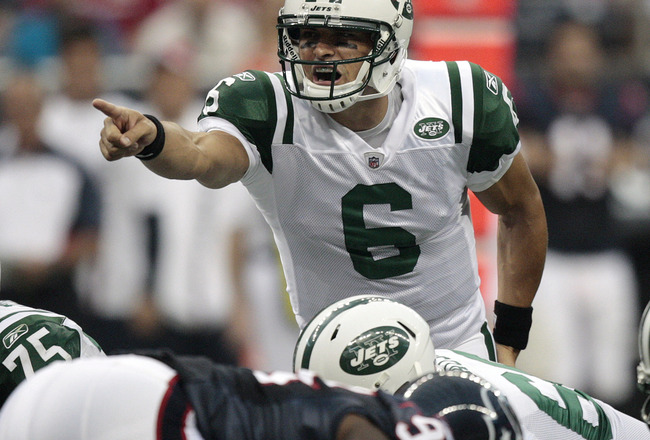 In Sunday's victory, New York Jets quarterback Mark Sanchez suffered a bruised throwing arm, but that won't slow him down this week as the Jets travel to Oakland to take on the Oakland Raiders.
Sanchez suffered the injury when his right arm crashed into the helmet of Jacksonville Jaguars defensive end Matt Roth while attempting a pass early in the fourth quarter with the Jets enjoying a 26-point lead. The play was actually never supposed to happen. However, Rex Ryan called a pass play to Plaxico Burress because Burress didn't have a catch.
After the game Sanchez said he was fine, but called that moment "scary." He didn't undergo any tests on his arm or shoulder and is ready to go for this week.
Don't worry though, Jets fans. Here are four reason why a bruised throwing arm won't slow down Sanchez.
He's Played Hurt Before
Mark Sanchez may be playing with a bruised throwing arm this week, but this is hardly the first time Sanchez has played hurt.
Most notably, last season Mark Sanchez suffered a slight tear in the cartilage in this throwing shoulder in a game against the Pittsburgh Steelers. Sanchez played through the pain, leading the Jets to an impressive road victory and then played the rest of the season with it, leading the Jets all the way to the AFC Championship Game.
Sanchez also played with a knee injury his rookie season that he suffered while in college and eventually required surgery.
So to Mark Sanchez this is nothing new. The third-year quarterback has played with pain before and he'll do it again this week.
Ground and Pound
The New York Jets identity for the past two season has been "ground and pound" football as they have led the NFL in rushing both seasons. However, that hasn't been the case so far this season.
The Jets aired it out in Week 1 and while they ran more in Week 2, they have struggled to get their running game going.
With Mark Sanchez nursing a bruised throwing arm, I would expect the Jets to run the ball more than usual this week. They want to establish their running game and this is a perfect time to do so. Back in 2009, Shonn Greene had the best game of his career against the Oakland Raiders, rushing for 144 yards and two touchdowns.
If the Jets are able to establish the run, it will free up space in the passing game and make Mark Sanchez's job much easier.
The Raiders Secondary 
The Oakland Raiders have gotten off to a good start to the season, but the one area in which this team has struggled has been defending the pass.
In Week 2 Ryan Fitzpatrick shredded the Oakland Raiders secondary for 264 yards and three touchdowns. In the second half of that game, Fitzpatrick seemingly completed any pass he wanted. Kyle Orton also saw success passing for over 300 yards against this Raiders secondary in Week 1.
The loss of Nnamdi Asomugha has been devastating to this secondary, especially since they didn't sign any one big to replace him. Mark Sanchez should be the next quarterback to take advantage of this weakened secondary, bruised throwing arm or not.
Passing Weapons
The biggest beneficiaries to Mark Sanchez are the players playing around him. Sanchez has some terrific offensive weapons at his disposal.
He has one of the top receivers trios in the league in Santonio Holmes, Plaxico Burress and Derrick Mason.
You have Holmes who is capable of producing a big play; Burress who is the target in the red zone; and Mason who is good working over the middle on short and intermediate routes.
Then add in Dustin Keller at tight end, who looks to be on the cusp of a true breakout season this year. Don't forget about LaDainian Tomlinson out of the backfield, who is still dangerous with the ball in his hand, despite his age.
All of these players form one of the best supporting casts in the league. With Sanchez a little dinged up, he can lean on his playmakers to make plays and they will deliver for him.