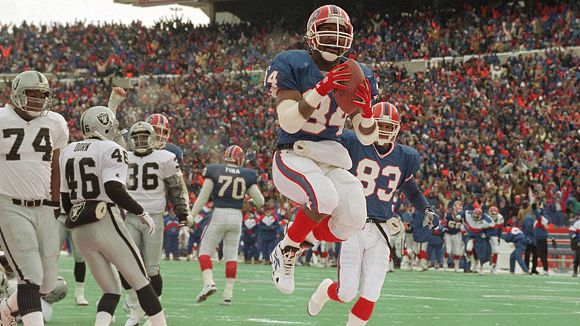 There is no greater defining game between the Buffalo Bills and the Oakland Raiders than this one, folks.
Back when the NFL world made more sense, business was good for the Bills and Raiders.   Both teams were relevant, at the top of the food chain instead of the basement dwellers they've become in the present day.  They were two of the top teams in AFC.  One was backed by stingy defense.  The other was spear-headed by a gun-slinging offense.  Buffalo (13-3) was the AFC's top seed and Los Angeles (12-4) was the AFC's second seed.  The Bills outlasted rival Miami 44-34 in the Divisional Round while the Raiders doubled up the Cincinnati Bengals 20-10. 
But there was nothing that could prepare us for what happened that fateful day on January 20, 1991.
What was predicted to be a back-and-forth heavyweight title fight turned out to be a first-round knockout laugher.  By the end of the first quarter, the rout was in full effect and the Raiders had no clue what hit them.  Buffalo raced out to a 14-3 lead on a 13-yard touchdown reception by James Lofton and a 12-yard touchdown run by Thurman Thomas.  Darryl Talley put the exclamation point on the first quarter with 27-yard interception returned for a touchdown.  Buffalo led 21-3 at the end of the first quarter, never looked back and left the Raiders in the dust.
Two Kenneth Davis touchdown runs (1, 3) and another Lofton score (8 yards) put the Bills up 41-3 at halftime setting their sights on Super Bowl XXV.  Davis' third rushing touchdown of the game (1-yard run) and Scott Norwood's 39-yard field goal finished off the scoring in the fourth quarter and finally put the Raiders out of their misery.  In one of the most lopsided beatings in Buffalo Bills history, the Bills walloped the Raiders 51-3.
The offense amassed 502 yards. Quarterback  Jim Kelly threw for 300 yards and missed only six passes (17-of-23).  He threw two touchdown passes, both to wide receiver James Lofton.  Lofton led all receivers with five catches for 113 yards and two touchdowns.  Running back Thurman Thomas had 199 total yards:  138 rushing yards on 25 carries, 1 TD and five catches for 61 yards. 
Buffalo's defense put up an equally impressive afternoon.  The Bills forced seven turnovers (six interceptions, one fumble), five of which came by way of interceptions from Raiders quarterback Jay Schroeder.  This game wasn't a particularly fond memory for Schroeder:  13-for-31 150 yards passing, 5 INTs.  Buffalo held wide receiver Tim Brown to just two catches for 17 yards and limited running back Marcus Allen to only 26 yards on 10 carries.  Five different players on defense had interceptions:  Darryl Talley had two picks and Nate Odomes, Mark Kelso, Leonard Smith and Ray Bentley each had one interception.
Buffalo's lopsided, impressive victory that memorable January day gave us all a few hours to escape what was going on at home and around the world.  Military operations in the Persian Gulf were dominating the news headlines as our military was beginning to attack Iraqi military targets in attempts to drive Iraq and their troops out of Kuwait.