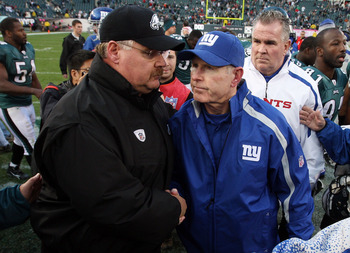 Is it getting hot in here or is it just me?
As we're inching closer to the 2011 NFL season, we'll start the season with 32 NFL head coaches.  Some are new.  Some are old.  Some are running on borrowed time.  But when the season comes to a close, not all 32 head coaches will be on the sidelines next season.  Especially when you consider the three-headed free agent coaching monster (Jeff Fisher, Jon Gruden and Bill Cowher) looking to possibly get back into coaching.  Let's take a look at which coaches around the league will be under the microscope and under fire if their respective teams don't produce.
Tony Sparano, Miami Dolphins.  Not that I'd ever feel sorry for anything related to the Miami Dolphins, but my how the mighty have fallen.  He turned water into wine in 2008.  Coming off a one-win season, Sparano took over and lead the Dolphins to an 11-win season (most since 2003), the AFC East Division champs and a playoff berth.  Since then, Miami has posted two straight 7-9 seasons and the team has sputtered with Chad Henne at quarterback.  In the offseason, owner Stephen Ross hopped a flight to California to make his best sales pitch to Jim Harbaugh in an attempt to replace Sparano.  That can't be a good sign for his job security.  Ross failed to land Harbaugh, then tried to clean up a PR mess by giving Sparano an extension.  It's clear that ownership and the fan base doesn't believe in Sparano or Henne.  They brought in Matt Moore instead of trying to acquire Kyle Orton.  All their eggs are in Henne's basket, which is an inaccurate, sketchy and inconsistent basket.  The schedule doesn't help, either.  Three of their first four games are against New England, Houston and San Diego and their first game off their bye week is at the New York Jets.  It won't be a surprise if the team quits on Sparano early in the season, and he might not last until Thanksgiving.  Sparano is about as sure a lame-duck head coach you can find in 2011.
Click HERE to read the rest