By Cardinals Gab Columnist Cameron Moon
The short answer: Yes. Its just gonna take some time.
Earlier Tuesday, the Los Angeles City Council approved the financial arrangement that AEG has presented for a new NFL caliber stadium, Farmers Field. The next steps of course, include finding a team to migrate to Los Angeles. Its not that easy though.
AEG, which owns the Staples Center (where the Clippers and Lakers play), has stated that in privately funding the stadium project through bonds and cash, they expect to become minority owners of the team that moves here. Team "X", as I'll call them will also have to have a stadium lease that is ending soon, as in next year, so that they can move to LA and start playing in either the Rose Bowl (home of the UCLA Bruins), or the Coliseum (home of the USC Trojans).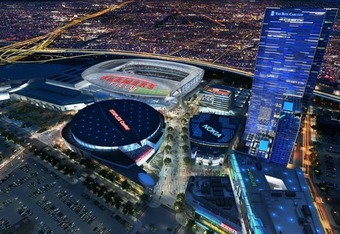 Downtown LA with Farmers Field.
Obviously, that is not the ideal situation, but its going to take almost a year to get the next step of the project done, the environmental impact summary. In that report, AEG is going to have to come up with innovative, energy efficient ways to run the stadium and the buildings around it.
All that stuff about the environmental impact and the City Council approving the financial plan is great, but none of that is ever going to matter unless Los Angeles gets an actual team.
So who are the most intriguing option(s) for a renewed NFL market that hasn't had professional football in over 15 years?
The potential pursuers of a brand new stadium deal in a major market are the San Diego Chargers, Oakland Raiders, Minnesota Vikings, St. Louis Rams, Jacksonville Jaguars, and the Buffalo Bills.
The teams that make the most sense are the Raiders, Chargers, and Rams, simply because all three teams have played in Los Angeles and were successful. The Chargers only played in LA for their inaugural season before departing for San Diego but we'll count that anyways.
Another reason one or more of those teams have a real chance of coming to Los Angeles and can expect to be successful is the amount of fans each team already has here. The Rams and Raiders could have more success in attendance because they were more established franchises in their time in LA, but don't count out the San Diego Chargers, just a two hour drive from LA.
The Chargers want a new stadium in San Diego, but want to fund it publicly, stating that they would need a whopping $600 million in new tax money to fund it. The situation up north is much better for them: they get a new stadium, move into a bigger market, play their home ball in essentially the same climate, in a stadium with a retractable roof, and they expand their fan base. The loss will sting the fans in San Diego, but the die hards will have no problem making the short trip to Farmers Field.
The Raiders have been a serious part of migration talks since the idea of an NFL caliber stadium in Los Angeles came about, but reports have surfaced stating that the Raiders are going to push for sharing a stadium with the San Francisco 49ers in nearby Santa Clara. Just for clarification, the reason the Raiders left LA in the first place was because they were not afforded the opportunity by the city to build a new home for themselves. This may be the chance they've waited almost 20 years for.
A view from inside Farmers Field.
The other three teams are intriguing for the simple fact that they are NFL teams. The Vikings and Bills are establishments in small markets, and taking either team to a warm weather town filled with glitz and glamour would ruin their traditions and the reasons that make football in a city like Buffalo or Minnesota great. No more tailgating in the snow, no more frozen tundra home field advantage for the Bills in a playoff game (if they ever get to that level again).
The fan base that a team like Minnesota has is incomparable to almost any team in the league. The Vikings have been in the NFL since 1961 and have inspired throngs of people to believe in their way of doing things. Moving that team to Los Angeles would be a lose-lose scenario for both Minneapolis and the NFL. The steady group of passionate fans that attend their games, practices, and draft day parties would be replaced by people that may not be able to name anyone on the team, let alone care about who the fourth round draft pick is.
The Jaguars are the most head scratching team in terms of discussing a possible move to Southern California. The Jaguars were featured in numerous local television blackouts (meaning that they did not sell out their share of game tickets throughout the season), signifying that even in a small market like Jacksonville, Florida, a city with no other professional or major collegiate athletics to keep the fans satiated, they are irrelevant.
If they cannot draw fans in a town with little else sports wise, imagine throwing a losing team into a city like Los Angeles, where fans expect championships as well as success early and often. If teams are not successful (we've seen how the Dodgers attendance has dipped this year), fans won't pay, simply because there are countless other things to do in a city populated by over 10 million people. The same cannot be said for small market teams like the Bills and Jaguars, who have no other sporting attractions in town.
The Dodgers have been bad this year, and their attendance shows it, averaging about 20,000 less fans than capacity.
There is no question that AEG has taken the proper steps to securing an NFL franchise in the second largest market in America. The question is, what team will be willing to take the risk in leaving faithful fans for a city filled with fair weather supporters that will not have any hard feelings about never attending a game.