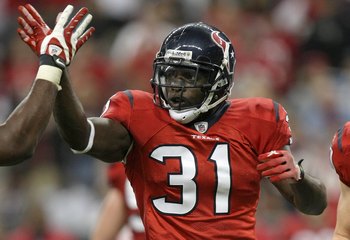 After passing his physical Thursday, Safety Bernard Pollard has signed a two year team with the Baltimore Ravens.
Pollard is coming off a career best with 112 Tackles last season for the Houston Texans. He is a fifth year player who has started the last four seasons (Two with Kansas City, Two with Houston). He is described a a "heavy hitter" and is considered an upgrade from Dawan Landry who recently signed with the Jaguars.
I mentioned this in yesterday's post but this move to me speaks volumes about how the franchise feels about Tom Zbikowski and Haruki Nakamura. The word competition will be used but make no mistake that Pollard is being brought in as a starter. It remains to be seen how much better he will perform than Landry or any of the safeties that Baltimore already has under contract.
I didn't really see this one coming and since the Ravens have a variety of needs on offense (backup QB, RB, #2 Receiver) I was even more surprised that they signed a Safety. Hopefully the Receiver issue will be settled perhaps by the end of today as the Ravens are considered the front runners for the services of Malcom Floyd. I like Floyd's size and ability to stretch the field. It would also help take the sting out of Derrick Mason's impending signing with the Jets that could also be announced today.