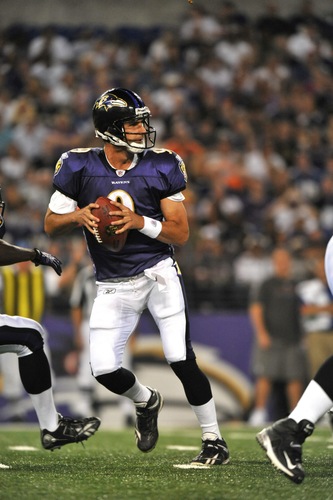 In a surprising move the 34-year old quarterback announced his retirement from the NFL on Wednesday. Bulger, the backup to Joe Flacco last season with the Ravens had been linked to Arizona as a possible starter. But once the Cardinals engineered a trade for Phildaelphia's Kevin Kolb that scenario now appears unlikely.
So after weighing his options, Bulger decided it was best to retire after 11 seasons in pro football.
Bulger's retirement means that Baltimore needs to find someone else for the backup role to Flacco for this season. I can't seem them entering the season with Hunter Cantwell and 2011 draft pick Tyrod Taylor. Both have little to no experience running a pro offense. The pool for vets is pretty thin at this point with names like Jim Sorgi and Seneca Wallace topping the list. Should I even mention that Troy Smith is still available at this point? Either way this is another area the Ravens have to address before the season begins.