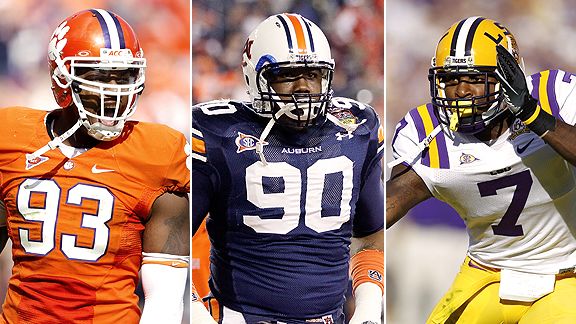 From left to right: Bowers, Fairley and Peterson could all improve Bills' defense
Ah, it's March, which signifies a few things.  Hopefully warmer weather is just off the horizion.  Likewise for the 2011 baseball season.  March Madness is about to begin and NFL mock drafts are running roughshod through any and all Internet databases these days.
No matter what the end result or when this nasty NFL labor dispute is resolved, there will be a 2011 NFL draft, or as I like to refer to the draft as football's version of Full Tilt Poker.  I'll be the first among us to admit I have a sick fascination with scouring the Internet for the latest mock drafts, and I don't even know why.  After all, it's March 6th.  It's a ridiculous notion that the pundits and experts know or even have the slightest inkling of what players teams are going to select.  Heck, it's equally nuts to predict what will happen even a week or a day before the draft.  But yet, we don't let that stop us from guessing and speculation.
So I say, let's not fight it; rather, let's embrace the idiocy and welcome intrigue and guesswork with open arms!  Who's with me?
Okay, in all seriousness the Buffalo Bills find themselves in an all-too-similar, near decade long position of needing to hit a proverbial "home run" with the No.3 overall pick in this year's draft.  The Bills were in the same position just one year ago, in need of a franchise quarterback prospect and makeovers on both the offensvie and defensive lines.  We know how the story ended.  Buffalo shocked virtually everyone and selected RB C.J. Spiller, further crowding their backfield that already had Fred Jackson and Marshawn Lynch.  Spiller had a disappointing rookie campaign and now the Bills find themselves right back in the top end of the draft after a four-win season in 2010.
So the questioning begin:  Have the Bills learned their lesson?  Will they stop neglecting the lines?  Will they fix the league's worst run defense?  Can they finally start drafting booms and stop collecting busts with their first round picks?
I wish I had an answer to any of the previously purposed questions.  Skim over the mock drafts at your own leisure and you're likely to find one of these names in the Bills' No.3 slot:  Daquan Bowers, Nick Fairley, Marcell Dareus, Patrick Peterson, Cam Newton, Blaine Gabbert, Von Miller and A.J. Green.  It's hard for me to argue against any one of these picks because I think just about all of them could help the Bills either immediately or in 2012.
The biggest discrepancy surrounding Buffalo is what they should do versus what they will do.  And it seems as though the should and the will almost never coincide with the Bills' selection.  Spiller was a luxury pick and it made very little sense to not only draft another running back, but then it made even less sense when the Bills hung on to Lynch for almost half the season before trading him to Seattle and unclogging their crowded backfield.  Like many others,  I thought they should've taken either the best tackle on the board (Anthony Davis or Bryan Bulaga) or rolled the dice on Jimmy Clausen.
On the surface, the Bills' biggest need remains on the defensive side of the ball, particular their porous and downright awful run defense.  It's been horrid and neglected for nearly two seasons now.  Switching back and forth last season from a 3-4 to a 4-3 defense didn't help matters.  Neither does the fact the Bills remain undersized at linebacker and don't have another threat opposite Kyle Williams.  Simply put:  the front seven lacks elite talent capable of getting to the quarterback and stopping the running game.
Click HERE to read the rest