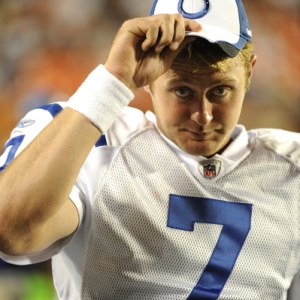 Many folks have been complaining and whining about Curtis Painter. Fans think the Indianapolis Colts should invest in getting a back-up quarterback. I say, No. Just a big, fat, flat-out no. Why? Well, first of all, Indianapolis is wasting money in the salary cap. There is no need for one.
Peyton Manning has never missed a game, and he's going to keep it that way. Manning is probably the most durable quarterback in the league right now, and could be in NFL history. Manning is the team, and even having Sage Rosenfels as a back-up won't help the Colts even get a 8-8 season, or something along those lines.
Indianapolis knows they will fail anyways without Manning, so what's the point to getting a back-up? I'd rather have Manning go down with an injury and see Indianapolis finish with a 3-13 record and get some great players in the draft than wasting money on a back-up and go 7-9, which puts you in a tighter spot as you can't get as much good players you can get when you're 3-13, and adding to that: depleting more money to the cap space.
We know Manning's time will be up in a little less than a decade. I think the only way we see Manning getting injured and missing games would be when he hits the age of between 38-41 or so. At 34 years old, Manning is still very tough. And by the time Manning retires or a year before he does and see him depleting in performance, the Colts can then draft a quarterback or find one via free agency to find the heir.
But for right now, Indianapolis is fine without a good back-up quarterback.
There's no need for one right now.