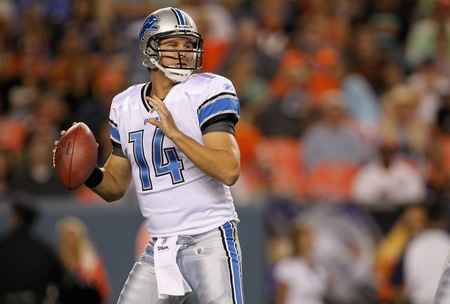 After eight long months of waiting for the Lions' 2010 season to begin, it was devastating to watch Matthew Stafford writhe on the Soldier Field turf after just 29 minutes of play.
As I re-watched the play I couldn't fathom Stafford playing again this season, especially after seeing a nearly identical hit end Sam Bradford's 2009 a little less than a year ago.  The early reports are that Stafford suffered no structural damage and should only miss 2-6 weeks.
The Lions offense wasn't exactly humming when Stafford was in the game, but they were moving the ball and they had just capped a 60-yard touchdown drive on the previous possession.  After Stafford's injury, Shaun Hill led the Lions to five three and outs and two turnovers in eight possessions.
Shaun Hill is a more than capable backup, but the main concern I have lies with his ability to create plays.  Matthew Stafford has elite arm strength that allows him to squeeze throws into small windows.  His arm strength also gives him the option of heaving a ball 60 yards downfield while scrambling or on a busted play.  Hill doesn't have that type of ability and it will limit the offense because the defense doesn't need to account for those types of situations.  Hill will have to play within the confines of the designed plays and he'll have to take what the defense gives him.
Another concern some may have is Hill's ability to throw the deep ball.  Deep passes aren't just about arm strength, they are about anticipation and accuracy, and Hill has those traits.  In fact, Hill experienced a fair amount of success under Mike Martz and his downfield passing attack in San Francisco in 2008.  Hill obviously doesn't have the arm Stafford does, but he has the ability to push the ball downfield and the Lions' playcalling shouldn't be dramatically affected.
One other significant concern that I have with Hill is his pocket presence.  Hill has been sacked 48 times in 20 games, and one game he didn't attempt a pass, so it's 48 sacks in 19 games.  As I said before, Hill did play under Martz for a year which will skew anybody's sack total.  But averaging 2.5 sacks a game and one sack for every 11 passes attempted is worrisome, espcially with the blitz happy Eagles coming to town.
There will be a dropoff going from Stafford to Hill, as there is almost every time a team loses it's starter, but Hill is one of the better backups in the league.  If the Lions continue to struggle running the football it won't matter who is under center.