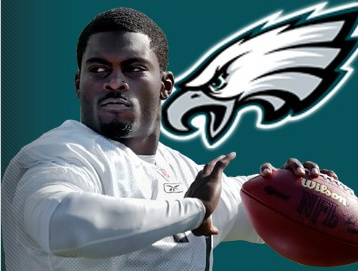 Usually there are some things you do that you realize later that you really did something bad. It's one of those times where you forget about the consequences that lie ahead of you. Something that you will regret or a long, long time. That happened to Michael Vick. But for everybody, they deserve a second chance. So did Vick. And the Philadelphia Eagles gave him that chance.
In his first season back in the league, Vick only did a few plays here and there. However, towards the end of the season, he showed that he still had it in him. He would end his season with a rating of 93.7, throwing one touchdown and having 86 passing yards. He would also 95 yards on the ground.
Coming into the 2010 season, Vick would be an alternative. Just a playmaker, none the less. He would come in at drives and just make plays that defenses won't expect. At this point, people should realize that Vick can still scare defenses. Although they were a lot more scared of him four or five years ago, Vick can still trick them and make them answer questions in their heads. Will he pass? Is he going to run?
The Eagles already traded away Donovan McNabb, but many were highly criticizing the decision because of how much success he brought to them. Along with that, Philly traded McNabb to the Washington Redskins, a division rival. However, they had high hopes in Kevin Kolb. Eagles fans got what they wished: No. 5 finally being gone. Now all the hands are in Kolb.
Entering a tough game against the Green Bay Packers, the Eagles needed to depend Kolb to lead Philly. However, Kolb's day ended early, as he suffered from a concussion. The game was all in Michael Vick's hands now. This was Vick's first NFL start at quarterback since December 31, 2006, which was ironically against the Philadelphia Eagles. Vick is entering the final year of his two-year contract with Philly, and he wants to make the most of it.
Against the Packers, he did. And with Vick, the Eagles rolled, scoring 17 points thanks to him. Vick showed signs of his old "Superman" self from the Atlanta Falcons. With a struggling Kevin Kolb, Vick fixed all that, as he went 16-of-24 for 175 yards and one touchdown. He would finish with a 101.9 rating. Vick also ran for 103 yards on eleven carries, including a very important 31-yard scamper which would set up a touchdown for the Eagles.
Down 27-10, Vick quickly brought the Eagles back in the game and brought them within a touchdown deficit, 27-20. The Packers somehow survived. Vick, in my opinion, had a much better showing than Aaron Rodgers, who went 19-of-31 for 188 yards with two touchdowns and two interceptions, along with a 73.1 rating. Vick did better than what people think is the number one fantasy quarterback in the league. But Vick was the one who tore up the fantasy books.
Now the Eagles have questions to face. If Kevin Kolb is healthy and ready to play in next week's game for the Eagles, should Andy Reid explore the possibilities of starting Vick? He should. However, as of right now, it doesn't seem like the case, even after a stunning performance.
"If Kolb is healthy he'll start Sunday," Reid told Philly.com's Jeff McLane.
Right now, I don't believe that. Reid will definitely consider starting Vick. When you look at it, Kolb was struggling. Along with that, there was a game a year or two ago when Philadelphia faced the Baltimore Ravens. In that game, McNabb was struggling so Reid decided to surprisingly bench him in the favor of No. 4, Kevin Kolb. Kolb would struggle, and do much worse than Vick. And when ou look at it, he struggled today.
I don't see how Reid can pass on Vick. Vick showed that he can be a good passer today. He easily showed that. Although naysayers would say that I am judging from just one game, but look at it this way: Many are judging Kolb for just a matter of a couple of games, that's it. And here he is being ranked as one of the top sleepers this year and one of those breakout players. In my opinion, the kid is just simply overrated. And he showed that today.
Vick shows that he can still have it. And there is no other quarterback, who is two years removed from playing football, can still be amazing and a threat. When is there another quarterback who is able throw for over 200 yards and rush for 100 almost every game. Nobody. It's been a while since we have seen that from Vick, but if he shows signs of what he did today, I wouldn't be surprised if he averages a 200-100 passing-to-rushing yards ratio per game.
Sure, he is not a perfect passer, but neither is Kolb. And so far, Vick has proven that he can win games. If you were to do an experiment of if you start Kolb for a year and then start Vick for a year, you can compare the results: Vick would most probably win more games for you. Along with that, the kid is a three-time Pro-Bowler. I don't see how Andy Reid can't take a chance on Vick starting.
Vick has also led a team to the NFC Championship game, against no other than the Eagles. He is also 2-2 in playoff games, which isn't so bad. Plus, Vick finally has targets around him. I really have a feeling that Vick can excel in the passing game. Who did Vick have when he was in Atlanta? When you take out Warrick Dunn, there was really nobody when you look at it. But coming to Philly, he has Brent Celek, DeSean Jackson, Jeremy Maclin, Jason Avantl, and more.
Probably Vick's best receiver in his time with Atlanta was someone like Michael Jenkins. Vick only had a year or two with Roddy White, but that is when no one knew of his talents. If he were with the Falcons right now, he would probably be much better than what he was about four or five years ago when you consider the fact that Atlanta currently has Michael Turner, Tony Gonzalez, and much more improved Roddy White.
Also, after today's game, Vick is 38-31-1 as a starter. It's not perfect, but it is sure as hell as clear that it is over .500. And that is all you need. Plus, if Vick had weapons that many of the other star quarterbacks have, that would be a hell of a lot better. I bet you Matt Ryan couldn't have had the success Vick had when Atlanta did not have any receiving weapons. Luckily for Ryan, he did.
Starting Vick at quarterback would be a real wise decision now. Currently, I would project him to pass for about 2800 yards with 16 touchdowns and a quarterback rating ranging between 78-86. And I am serious. If the Eagles go with this, I can see Philly finishing with 7-11 wins this year.
The 30-year-old Vick shows promise. Reid is going to have to make a decision. Deciding to pick Vick would be nice.
And Andy Reid won't regret it.