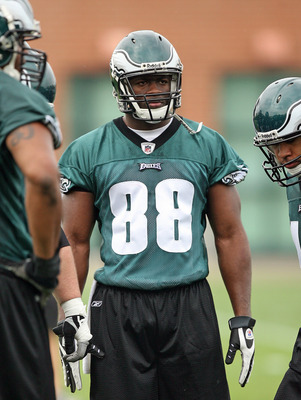 When the Eagles drafted Cornelius Ingram, it was a bit of a wild card pick. Ingram was a guy who showed a lot of promise in college but suffered an ACL injury that caused many teams to shy away from him. His draft stock dropped a lot because of the injury. Still remaining on the board in the fifth round, the Eagles decided to take a risk on him and see what the kid had to offer.
In his first series of OTA's and early on in Training Camp, Ingram showed a lot of promise. He was essentially a play-making tight end with great hands that the Eagles had plans to use in the red zone. However, things took a turn for the worse as Training Camp continued, and Ingram ended up tearing his ACL costing him to be placed on injured reserve and missed the 2009 season.
Not too long after Ingram went down, Stewart Bradley suffered the same injury during Eagles Flight Night. The two young players became rehab buddies and pushed each other in rehab sessions throughout the 2009 season.
Both players returned to the field in 2010 with redemption in mind. Bradley has shown that he is back and ready to pick up where he left off before his injury. On the other hand, Ingram has not made the same impressive improvements.
Ingram has allowed rookie Clay Harbor to creep up on him for the backup tight end position and looks far from his athletic self on the field. His knee has been bothering him, and you can tell that he is far from being 100 percent.
We've now been told that Ingram has a "significant" cyst in the back of his knee. With that information, we now have to ask if the Eagles and Ingram are going to have to go their separate ways. It seems that Ingram may be one of those guys that will never be able to shake the injury bug. The situation is sad, because Ingram definitely had a lot of potential. However, as a franchise, the longer you keep Ingram on the roster in the state he is in is the longer you keep a healthy player off it.
Things definitely do not look good for Ingram.