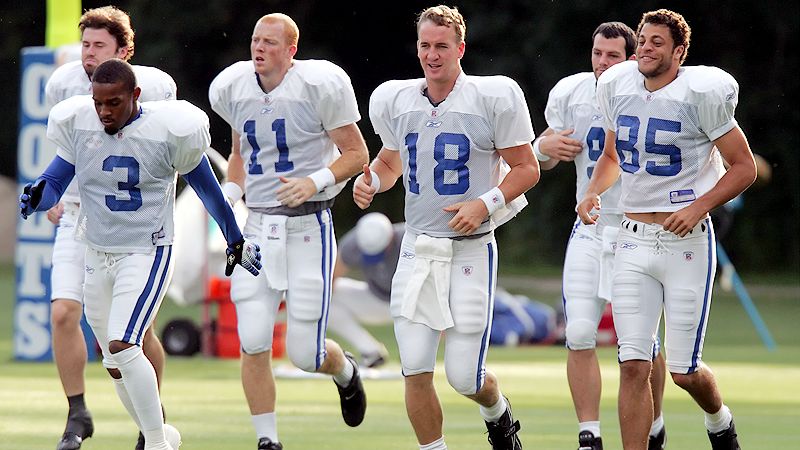 Training camp is probably one of the most important parts of the off-season. This is where you see the cuts and seeing people put on waivers. Some people try out and work hard to make a spot on the team. If you have ever seen Hard Knocks, you probably know what I am talking about. It's always interesting and I hope it looks to be interesting for the Colts. Training camp for the Indianapolis Colts begins on the first day of August. That's about three weeks away. So with this, here are ten concerns, in my opinion, going into training camp for the team.
10. Will John Chick Make the Team?
John Chick has been an important part of the Canadian Football League. He even won Defensive Player of the Year over at the CFL and has been an important leader for the Roughriders. And looking at the Roughriders, I heard they are a pretty darn good team. Chick was added to the Colts' roster a few weeks ago and he feels like a feel-good story of the team. It would be really nice if Chick made the team. So with if he is 6?4? and 248 pounds? Does that stop the 6?2? 245-pound Robert Mathis from getting the goods? Chick will be competing for the fifth defensive-end spot against Ervin Baldwin. Hope he beats him and has a spot with an NFL team for the first time in his career. At 27, he has a lot of time to improve and make himself one of the important contributors to the team.
9. Will Peyton Manning Receive His Contract?
Bill Polian was talking with WEEI.com about how the collective bargaining agreement could affect things for Peyton Manning and his rich contract:
"It's bound to have some effect," Polian said. "What we don't know is what the system is going forward. It makes it really difficult working out a deal that makes sense for everybody because you don't know what the cap will be, what the ramifications are, how things count. All of that makes it a little difficult. We've been going slowly along with Tom Condon because we're trying to formulate some things that will fit no matter what the system is…
"We can't get into the nitty-gritty because we don't mow what the rules will be. And that will clarify itself as the year goes on because there will be talks, people will understand what's on the table and what's not on the table. It's not like you're going to get a deal in October, I don't think. If that happens it would be great. But at least you can get a feel for the way things are going."
But no matter what happens, Peyton Manning will receive his contract sooner or later. So it's not something that big to worry about. Manning is a guy earning his pay and according to several sources, the Colts keep hinting this will be the richest contract in NFL history!
8. Who Will be the No. 3 Receiver?
This is not as much of a concern than being a No. 4 or No. 2 receiver as you will see later. But if Pierre Garcon wins the the No. 2 spot, I have Anthony Gonzalez and Austin Collie competing for the No. 3 spot. As of right now, the competition to play alongside of Reggie Wayne is between Gonzalez and Garcon. I wouldn't be surprised seeing Garcon winning has Gonzalez has taken a huge amount of time off from playing football. So he may drop down. I'll give you my predictions coming later in this article.
7. Will Joseph Addai Lose His Job as Starter?
It has been said many times before that Donald Brown could compete against Joseph Addai for the starting spot at running back. But I don't see this as that big of a concern. Though, I wouldn't be surprised if Addai has to compete. But I will be very surprised if Brown beats him. As of right now, this is not a huge concern but it is definitely something to look in to.
6. Will Pat Angerer Start?
First of all, you got to love the name. When do you ever hear a name like that? When you hear that, you got to start him. He sounds like a good football player just from the name. Drafted by the Colts, Angerer could actually start. Currently, he is a backup middle linebacker for Gary Brackett. Angerer could compete against Phillip Wheeler, though, at the outside linebacker position. It could very well be possible.
5. Can Dwight Freeney Stay Healthy?
Freeney had some health problems last year and a bit of injuries. Willie Colon is out for the season and the Pittsburgh Steelers haven't even started training camp yet. So this is a concern for Freeney. Let's just hope he and a bunch of other important Colts can stay healthy throught training camp.
4. Will Jerry Hughes Start?
Jerry Hughes was drafted 31st overall by the Indianapolis Colts and shows flashes of the next coming of Robert Mathis. And if Mathis goes towards a holdout, Hughes is the replacement. I heard Hughes could have a better chance of starting at outside linebacker than Pat Angerer can. I can see Hughes coming in on important downs where he is at Phillip Wheeler's spot. If you see it, you know it's a blitz. But I hope he starts and this is a guy you really need to start. Hope he does.
3. Who Will be the No. 2 and No. 4 Receiver?
The number two receiver spot shows a lot of concern. Garcon and Gonzalez will compete there to play on the opposite of Reggie Wayne. It's going to be interesting. But I think Garcon pulls off the shocker and becomes the No. 2 option. With this, Gonzalez and Collie will compete at No. 3. Here, Gonzalez will have to feel like it is his rookie year all over again, being a slot receiver. Here, Collie will be the No. 4 receiver and I hope he can handle it there.
2. Any Free Agent Signings?
Coming into the off-season, I just hoped the Colts could make some moves. But right now, they haven't. And here is a free agent to consider if you don't want Phillip Wheeler: Keith Bulluck. The Colts should at least consider him. I know Bulluck has been a middle linebacker, but he can make the transition. But he's not going to have as many snaps than he has had in Tennessee. With this, Bulluck, Hughes, Angerer, and Wheeler could have a rotation. There could be a rotation among all the linebackers, in fact. And what about Terrell Owens? Why not sign him? You can't have too much of too good? Could Indy consider Brian Westbrook? Maybe. Indy seems like they are secretly targeting them.
1. Will the Contract Situations Get Handled?
This is the number one concern coming into the Colts' training camp. And you should have seen this coming. I mean, look. Reggie Wayne, Robert Mathis, and Peyton Manning all need contracts and they will hold out training camp probably now. They are all disgruntled and they want their money now! Well, except for Peyton. But it was already a bit hard enough signing the disgruntled Antoine Bethea. As of right now, I think the Colts are trying to get Peyton's contract done before Wayne's and Mathis's. But these contract situations need to get done fast before they get any crazier. It won't be crazier than Vincent Jackson's or Darrelle Revis's, but if the Colts continue to act like they ignore, this could be bad for the long run and it could in fact be crazier once training camp comes closer and closer.