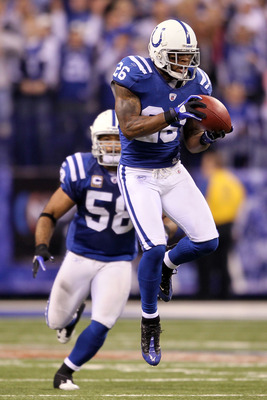 I have always wanted to do an article like this for the Indianapolis Colts. Well, now, here it is.
What if the Indianapolis Colts switched to a 3-4 defensive scheme instead of being their usual old 4-3 defensive scheme?
The 3-4 defense is growing as one of the most-used defensive schemes in the National Football League. So what if Indy switched to it?
I will be breaking down what their linebackers and defensive line will look like because their cornerbacks will look the same.
So let's break it down.
Left Defensive End
I believe Fili Moala will finally become a starter if he were in a 3-4 defensive scheme. He would fit nicely at defensive end on left side since he will be more explosive than any of the other guys on the defensive line with him.

Moala is 6?4? and 303 pounds and he can create a lot of damage like he did back with the USC Trojans.
Expect Eric Foster to be his backup on the defensive ends side.
Nose Tackle
Daniel Muir has come up big for the Indianapolis Colts when he was the starting defensive tackle in the 2009-10 season.
He produced 52 tackles and half a sack for the Colts. Those are the stats you might see from a nose tackle in a 3-4 defense. I see Muir having a lot of tackles and 2-5 sacks.
I see him clogging up the hole well in the middle. Muir is a strong guy and he is the right fit at nose tackle, as he is the biggest player on the team at 6?2? and 312 pounds.
Right Defensive End
Antonio Johnson is another guy who came up big on the defensive line for the Indianapolis Colts during the 2009-10 season. He finished the year with 34 tackles and one sack.
At 6?3? and 310 pounds, Johnson can create a lot of damage on the line. He is a fearful defender and he can create some big impact on the running game like he did in 2009.
Left Outside Linebacker
Robert Mathis played great, with 37 tackles and 9.5 sacks in the 2009-10 season. I see him having way more tackles and more sacks. He can be another James Harrison.
Mathis is explosive enough to be a linebacker and has the size to become one of the top ten in the league at 6?2? and 245 pounds.
Expect Jerry Hughes to play the role of Larry English in the San Diego Chargers' 3-4 defense: being in a rotation with Shawne Merriman. I see Hughes doing the same with Mathis.
Left Inside Linebacker
Clint Session is continuing to be a dominant force for the Indianapolis Colts' 4-3 defensive scheme and in the linebacking corps.
Expect a lot more impact in the 3-4.
I see Session racking up over 100 tackles and a few sacks, too. At 6?0? and 235 pounds, he has the right size to do a lot as a right inside linebacker in the 3-4.
He is recently coming off a 103-tackle year.
Right Inside Linebacker
Gary Brackett has to be mentioned here and he is at left inside linebacker. Brackett is coming off a year with 99 tackles and one sack as he displayed himself as the true heart and soul of the Colts' defense in the 2009-10 season.
Like Session, Brackett has the right size with a height of 5?11? and the weight of 235 pounds. Brackett will probably rack up 120 tackles, if not more.
He can be a more dominant linebacker in a 3-4, in my opinion.
Right Outside Linebacker
Who else would it be? It would be like no other…Dwight Freeney! I see him being the most dominant out of any other Colt player, if they were to be in a 3-4 defense.
At 6?1? and 268 pounds, he is the size and speed to become a Top 5 right outside linebacker.
He is already coming off a season of 24 tackles and 13.5 sacks.
Here's something better for him: 50-70 tackels and 10-16 sacks! That is where Freeney can lock himself as a Pro-Bowler. I see Freeney doing a lot of damage in a 3-4.
Conclusion
The Colts are heading for a bright, young, and new year with the 2010-11 NFL season coming up.
Yes, they enter this year with a 4-3 defensive scheme. But after that year, I hope they will sometime think of a 3-4. I see the Colts being an easy Top Ten defense in that scheme.
But I guess we'll never know.
At least we got a taste.
Enjoyed this post?
Subscribe to NFL Gridiron Gab via
RSS Feed
or
E-mail
and receive daily news updates from us!
One Response to "What if the Colts Switched to a 3-4 Defense in 2010?"