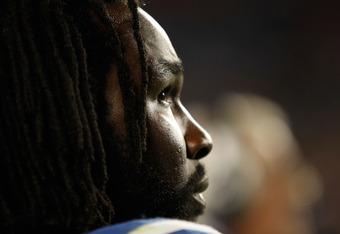 During the 2006-07 season, Joseph Addai had a season a rookie would dream of.
He ran for 1,081 yards, seven touchdowns, and had 4.7 yards per carry.
This also included a game against the Philadelphia Eagles, where he ran for over 170 yards and four touchdowns.
In the AFC Championship game versus the New England Patriots, he scored the game-winning touchdown; going up the middle for, giving the Colts a 38-34 win.
The 2007-08 season was decent.
He ran for 1,072 yards with twelve touchdowns, including 4.1 yards per carry. The Colts went 13-3, but sadly lost to the San Diego Chargers in a 28-24 heartbreaker.
It looked to be better for the 2008-09 season. It just seemed like it. Addai had to progress.
He didn't.
It followed by injuries and bad time running the ball. He only ran for 544 yards, five touchdowns, and 3.5 yards per carry.
Then the 2009-10 season came. Colts fan thought Addai would put his previous season behind him. Indy also had Donald Brown. It really didn't change it that much.
He ran for 828 yards and ten touchdowns, along with 3.8 yards per carry. I would necessarily say it was that bad of a season. It was an improvement. Like starting over.
When the Colts reached the Super Bowl, Joseph Addai ran great. So did Donald Brown. I mean, nobody could stop him.
He ran for 77 yards on 13 carries with a touchdown. This also included a staggering 5.9 yards per carry. Overall, Addai had 180 yards with one touchdown, including 4.5 yards per carry.
I can take that. I can accept it. Addai did great. In that Super Bowl, he had an important play. No, it wasn't a touchdown.
He had a breakout play with a 26-yard run. He broke tackles and just couldn' be stopped until he got to the red zone where a man caught up to number 29.
Addai hasn't had a run like that in a while. Actually, in fact, it's been since his rookie year since he's had a run that big. He had a 41-yard run as his longest in his career, and it came in his rookie season.
Pretty much everything came in his rookie season. Some in his sophomore season.
Now a new year is coming. The 2010-11 season.
Can Addai produce like he did in his first two years in the National Football League? Can Joseph produce like his old self and bring back the "Not Your Average Joe" slogan for himself?
Can he?
He's only 27 and will soon be entering his fifth year in the league.
I can say, yes, he can. I think the Colts can go back to their old ways running the ball well. Like when they had those great times with Edgerrin James and those first few years with Addai.
It is time to make a change. Time to bring back his old self. Time to produce more. His performance in the playoffs showed me something.
He's back. Come on Addai. Show us what you got.
Show us that you are more than what you already are. Show people that you aren't some guy who could only produce in his first two years in the league.
Show the real Joseph Addai.