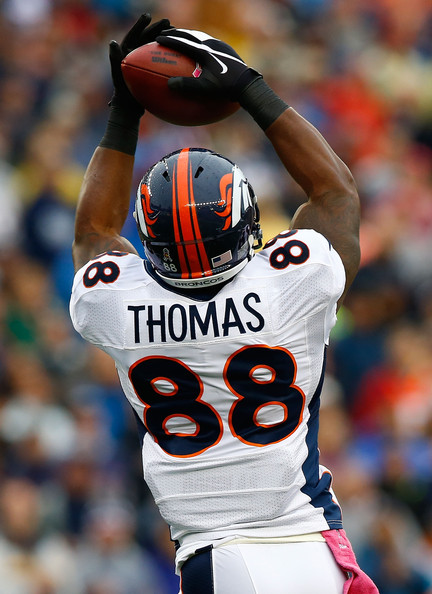 The St Louis Rams are in desperate need of some WR talent.  Since it is unlikely that Dez Bryant will remain unpicked after the first round, the Rams are looking at Demaryius Thomas as their second round pick.  If you look at the numbers, both physical and performance related, he is clearly the best remaining WR.  But let's use our heads.  Just because he is the 'best remaining' is he good enough to help the Rams make significant positive strides.  I'm not sold.
Of his 3 years at Georgia Tech he had 1 outstanding year.  In 2009 Thomas had 46 receptions for 1,154 yards and 8 TDs.  This is made more significant since he accomplished this on a team with limited alternate receiving options.  Although this type of performance does make me sit up and take notice, it doesn't necessarily entice me to pick up the check book.  I'd like to see him return to Georgia Tech for his senior year and continue to impress.
Instead I think the Rams need to turn to the Free Agent Market to meet this need.  There is quite a bit of unsigned talent still out there.  For example:
1. Laveranues Coles – Coles was drafted by the Jets in 2000.  He has had a stellar career with 1 Pro Bowl selection in 2003.  He has played for the Jets, Skins, and Bengals.  He has had three 1,000+ receiving seasons and several others that were close.  He has been productive his entire NFL career.  In 2009 with the Bengals he had 43 receptions for 514 yards (12 yards per catch).  Every season Coles receiving yards per catch has been a respectable 10+.
2. Terrell Owens – TO is a 6-time Pro Bowler & 5-time First-Team All-Pro.  In the last 10 years he has averaged 1,164 receiving yards per year with a pretty small standard deviation.  His last Pro Bowl selection was as recent as 2007 and last year he averaged over 15 yards per catch.  TO's drama and negative energy appears to have decreased over the years.  He prides himself on his physical fitness and high performance.  He should be huge value-add on a short term basis.

3. Muhsin Muhammad – (Born Melvin Campbell) 'Moose' was drafted by the Panthers in 1996.  He is a 2-time Pro Bowler & 1-time First-Team All-Pro.  His career receiving numbers are 860 receptions for 11,438 yards.  From 2005 to 2007 he played for the Bears, but he returned to the Panthers in 2008.  In the last 2 years he has played in 30 out of 32 games.  In 2008 he had 65 catches for 923 yards and then in 2009 he had 53 receptions for 581 yards.
4. Kevin Curtis – Curtis was drafted by the Rams in 2003.  He was injured his first year and then spent the next 3 behind Ram's superstar receivers Torry Holt and Isaac Bruce.  Even with that in mind, he put up good numbers with 132 receptions for 1,701 yards (2004-2006).  Curtis signed with the Eagles in 2006 and had a breakout year.  He caught 77 passes for 1,110 yards and 6 TDs.  On his own way to stardom; he was then inactive much of 2008 due to various injuries/ailments.  In 2009 he had arthroscopic surgery on his left knee and has missed twelve games.   In 2010 he could be healthy and back on his way to explosiveness.
So, let's not be hasty with this second round pick.  I'd rather see the Rams pick up someone like Clifton Geavers the 6'7.7" 307 lb DE who has a lot of upside.