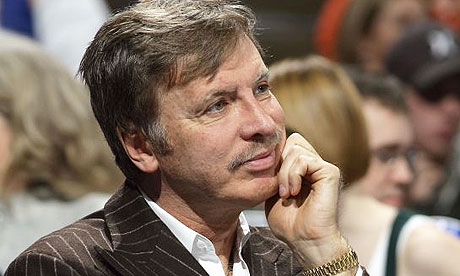 With Stan Kroenke's 11th hour bid to purchase the Rams, the only thing on everyone's mind is: how the heck is this guy going to get certified by the NFL?  Kroenke owns multiple sports franchises in the Denver, Colorado area and so is not permitted to purchase the majority of an NFL team.  This however, we do know:
Kroenke is already the majority owner of the Rams.  The NFL defines the majority owner as the single person who that owns the highest percentage of the franchise, as long as that percentage is over 30%.  Kroenke owns 40% of the Rams.  As Georgia Frontiere's even heirs to her Rams ownership, Chip Rosenbloom and Lucia Rodriquez each own 30%.    So, technically, Kroenke is already the majority owner.
Kroenke could pass or sell his ownership of the Colorado Avalanche and the Denver Nuggets to his wife or another family member.  This rule was famously circumvented by the Debartalo Family in which one sibling owned the San Francisco 49ers and another owned the Pittsburgh Penguins, all overseen by their father.
The NFL could change their rule on the matter.  The NFL has changed many ownership rules over the years, including the issue of NFL owners owning other sports franchises, even in the same city.  The NFL is not against changing rules, which it does frequently.  However, the Commissioner has said in the past he will not change the ruling for Kroenke.
Stan Kroenke did not put in this bid to be denied and I'm sure he has something up his sleeve that will make sure that he will be the next owner of the Rams.  What do you think?  Will Kroenke be certified by the NFL?