For almost two weeks into free agency, the Buffalo Bills were less than active.  We've seen more signs of spring lately than we have of the Bills improving the roster.  And for a team and fan base embarking on a decade long playoff drought to go along with another rebuilding project, it takes a considerably less amount of time these days for patience to run out.
On Tuesday, however, the Bills bolstered their new look 3-4 defense with a couple key free agents by signing ILB Andra Davis and defensive end Dwan Edwards.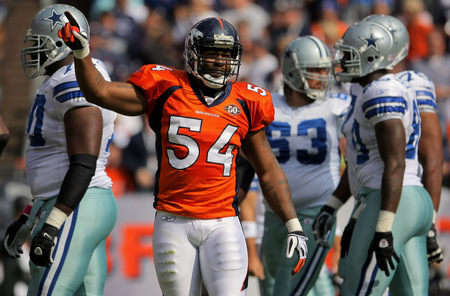 Davis (54) provides physical run prescence for Bills defense
Davis adds depth, physical force to linebacking unit
Mark Gaughan of  the Buffalo News reported the Bills signed Davis to a two-year deal worth about $4.4 million.  The former Florida Gator, Davis,31, is an eight-year veteran that brings experience, durability and toughness to a defense transitioning to a 3-4 defense.
The 6-foot-1, 251 pound inside linebacker was cut by the Denver Broncos last week.  In his only season with the Broncos, Davis started 13 of 16 games, finishing third on the team with 90 tackles and 3.5 sacks.  Davis spent the previous seven seasons with the Cleveland Browns.
After his rookie season in 2002, Davis became the Browns' starting middle linebacker in 2003.  Davis turned in a stellar sophomore season in '03 with a team best 136 tackles to go along with five sacks.  His best season came in 2005 when he registered team and career highs with 149 tackles.  However, in 2007, his numbers began to decline.  After posting 100+ tackles in three of the previous four seasons, Davis recorded just 67 tackles in 2007 and  90 tackles in 2008.  Cleveland released Davis after the 2008 season.
It's still yet to be determined who will play where in new defensive coordinator George Edwards' defense, but the signing of Davis add punch and veteran depth to the linebacking group.  Kawika Mitchell checks in a 6-1, 258 while Paul Posluszny is 6-1, 238.  The rest of the Bills' current linebackers are undersized in a 3-4 defense; Keith Ellison, Nic Harris and Jon Corto all weigh under 235.  All three lack great size and force to excel in a 3-4 defensive scheme.
Working in the Bills' favor to land Davis was his strong connections to the coaching staff.  Edwards coached Davis in 2004 when he was an assistant coach in Cleveland, and Davis also played for Bills outside linebackers coach Bob Sanders for three years when the two were together at the University of Florida.
Edwards (93) likely to start at defensive end in Bills new 3-4 defense
Edwards signing improves outlook on Bills new look 3-4 defense
The Bills entered free agency needing to address issues on the offensive line, at linebacker and defensive end.  For years now, Buffalo has been searching for someone to play across from Aaron Schobel.  All they've gotten is middle-of-the-road and moderately serviceable.  With the addition of free agent Dwan Edwards,  their search could be complete.
Buffalo and Edwards have agreed in principle to a four-year deal worth $18 million according to National Football Post's Aaron Wilson.  Edwards is expected to sign the contract later on Wednesday.
The 29-year-old has spent his entire six-year career with the Baltimore Ravens.  Selected 51st overall in the second round of the 2004 NFL Draft, Edwards brings experience and run-stopping abilities to the Bills' new look 3-4 defense.  Edwards played defensive end in the Ravens' 3-4 defense so his transition shouldn't be difficult and he gives Bills defensive coordinator George Edwards an experienced played in a 3-4 defense to an otherwise inexperienced group.
Edwards was supposed to be a highly sought after commodity on the free agent market, but a neck injury suffered in 2008 may have scared off some teams, including his former team, the Ravens.  Edwards suffered a neck injury in the preseason in 2008 that required surgery.  He had a spinal fusion of the C3 and C4 vertabrae and missed the entire 2008 campaign.
Fresh off serious neck surgery, Edwards didn't generate much interest from other teams around the league and signed a one-year deal to remain with Baltimore.  It wasn't until Week 6 of 2009 when Edwards became a full time starter as a result of an injury to Trevor Pryce.  Edwards made the most of his opportunity, tallying 47 tackles, a sack and a defensive touchdown for Baltimore's third-ranked defense in the NFL in 2009.
The Bills finished at the bottom of the barrel in 2009, ranking 30th in the NFL against the run.  Buffalo entered free agency needing all the help they could get and by adding Andra Davis and Dwan Edwards, we should be much better today about the Bills' new 3-4 defense scheme than we did yesterday