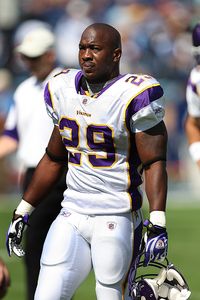 The Bears have themselves a backup to Matt Forte, as reports say that now former Viking RB Chester Taylor has inked a deal with the Bears, four years at $12 million.
Chester Taylor will stay in the NFC North.

The former Viking agreed to a four-year, $12 million contract with Chicago, according to Adam Schefter of ESPN. $7 million is guaranteed in the first year.

The Bears are just getting their checkbook warmed up, with a deal for Julius Peppers on the way shortly.

Taylor's contract, like the one for Kyle Vanden Bosch, includes a lot of front-loaded money in the uncapped year. Look for Taylor and Matt Forte to split up the workload in Chicago next season.
The deal means that the Bears continue to be at the top of the list when it comes to free agency, as they have Taylor, tight end Brandon Manumaleuna, and will have Julius Peppers all aboard on the first day of free agency.