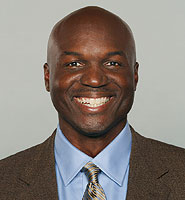 The Dolphins have been rejected twice so far this week by two of their top candidates for the open defensive coordinator position.
Both Al Groh, and Keith Butler, who were believed to be the front runners for the job, declined the Dolphins offers, and while Butler stayed put in Pittsburgh as their linebackers coach, Groh took the defensive coordinator spot at Georgia Tech.
The Dolphins now are down to only a few select guys, one of whom is already in their organization, in Todd Bowles.
It's shaping up as if Bowles will be almost handed the job. The Dolphins clock is running out to find a defensive mind to fill the empty spot. The Dolphins are on a schedule per say, as they signed themselves up to coach the South team in the Senior Bowl in the upcoming weeks.
The Dolphins are believed to be interested in Pepper Johnson, the young defensive lines coach for the New England Patriots, Bowles, our secondary coach, and Bryan Cox, the former linebacker for the Fins back in the '90s. I believe that there is somehow a darkhorse in all of this, and that it may be a guy along the lines of Rob Ryan.