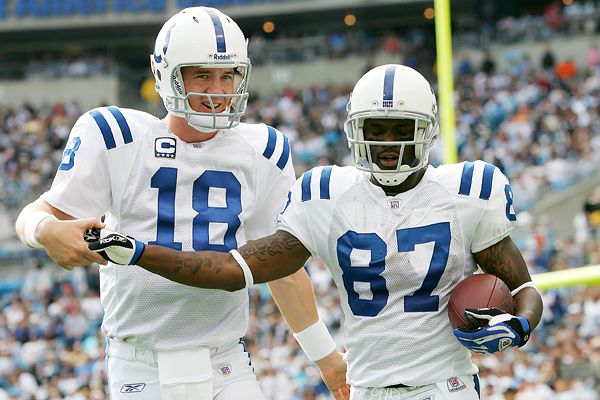 Here we are at the midway juncture of the regular season and as one would tend to do, you may or may not have already formulated in your mind your NFL All Star team for this season. One publication, Pro Football Weekly, has already put together their NFL All Star team for the midseason. Not surprisingly, the Indianapolis Colts were the most represented team on the list with four players, followed closely by the Minnesota Vikings. Below is the NFL All Star team at the midseason mark:
Offense
QB Peyton Manning, Colts — The NFL's top field general has been in fine form, despite the departure of Marvin Harrison in the offseason and an injury to Anthony Gonzalez that has kept him sidelined since Week One. In addition to relying on steady Reggie Wayne, Manning has gotten the most out of young WRs Austin Collie and Pierre Garcon. Having thrown for more than 300 yards in seven of the Colts' eight games, Manning is on pace for 5,090 yards, which would eclipse Dan Marino's single-season record of 5,084.
RB Adrian Peterson, Vikings — In the first half of the season, opposing defenses have been geared up to stop Peterson — not Brett Favre, which has opened things up for the Vikings to strike through the air. Even when the target of the opponent's game plan, Peterson has delivered. He's on pace to crack 1,500 rushing yards for the second time in his three-year NFL career and has scored nine touchdowns.
RB Chris Johnson, Titans — One of the NFL's faster backs, Johnson has avoided a sophomore slump. Gaining nearly seven yards per carry, Johnson leads the NFL in rushing with 959 yards. He has been the one true offensive threat on a Titans team that has failed miserably to live up to preseason expectations.
WR Reggie Wayne, Colts — Great hands and route-running skills, coupled with intimate knowledge of the offense, have led to Wayne's incredible consistency over the years. He's doing it again, having caught 59 passes for 753 yards and six touchdowns. He has broken the 125-yard barrier in three games and scored in all but two contests.
WR Andre Johnson, Texans — Many talent evaluators will tell you Johnson is the AFC's most gifted receiver. With great size and strength, plus the speed to get deep, Johnson is a game-changer who presents a constant challenge for defenses. He also possesses a work ethic that makes him want to get better each and every week, a rare trait in a league filled with more than a few divas at the position.
TE Dallas Clark, Colts — Considered by some to be the Colts' No. 3 wide receiver, Clark has also worked hard to improve his blocking in an effort to be an all-around tight end. But it's the eye-popping receiving numbers he has posted in the first half of the season that landed him on this team. Clark has caught 60 passes for 703 yards and three touchdowns, putting him on pace to break the all-time records for catches and receiving yardage by a tight end.
C Nick Mangold, Jets — Mangold leads a strong offensive line that has keyed one of the NFL's more productive rushing attacks. Having started every game of his career since entering the NFL as a first-round pick in 2006, Mangold is considered an up-and-comer with many Pro Bowls in his future.
OG Jahri Evans, Saints — Drew Brees says that Evans can simply flip a switch and be as good as any lineman in the league. Evans soon could be getting paid like one of the NFL's elites, as he's set to become a free agent after 2009.
OG Ben Grubbs, Ravens — A first-rounder in 2007, the powerful, athletic Grubbs is a rising star on a line that has paved the way for the Ravens' much-improved offense.
OT Ryan Clady, Broncos — After allowing just half a sack as a rookie, Clady is enjoying an outstanding follow-up season. While he allowed two sacks in the first seven games, that's hardly a bad number given that he's protecting the blind side of a new quarterback, Kyle Orton, who is less elusive than Jay Cutler.
OT Michael Roos, Titans — A year ago, Roos rose to prominence by allowing just one sack and helping pave the way for a dominant Titans rushing attack. He's giving another strong performance, albeit under more trying circumstances in 2009.
Defense
DE Jared Allen, Vikings — In his second year in Minnesota, Allen is having another big season. He has racked up 10½ sacks, with 7½ sacks coming in two big wins vs. the Packers. He also returned a fumble for a touchdown against the Rams and is a regular visitor in the opponent's backfield, making plays against the run.
DE Dwight Freeney, Colts — Patriots QB Tom Brady has called Freeney the most intimidating player that he has to regularly face. That's not a surprise given Freeney's impressive production — he has notched at least one sack in every game this season. In addition to his signature spin move, Freeney has a deep bag of pass-rushing tricks to keep opponents guessing.
DT Darnell Dockett, Cardinals — Dockett always has had the ability, but it was the consistency that eluded him. This season, though, he's been rock-steady, even if he's been a bit banged-up in some contests. He's a big reason the Cardinals have improved their showing against the run. While Dockett believes that he should be paid like Albert Haynesworth, he's living up to his promise that he wouldn't let contract issues hurt his performance on the field.
DT Haloti Ngata, Ravens — This massive, powerful and athletic man might not be making as many big plays as he did a season ago, but he does force double-teams to come his way, freeing up his teammates to make key plays.
OLB James Harrison, Steelers — Last year's Defensive Player of the Year is again performing at an elite level. He was named the AFC Defensive Player of the Month in October after he recorded 25 tackles, seven sacks, two forced fumbles and one fumble recovery while contributing to four victories.
OLB Elvis Dumervil, Broncos — Coming out of college, Dumervil was considered a tweener who would never duplicate the impressive production he posted at Louisville (30 sacks his final two seasons). No one is doubting Dumervil now. After racking up 26 sacks in his first three NFL seasons, he's on pace for his best season. After a position switch from defensive end to outside linebacker in Denver's new 3-4 defense, Dumervil has racked up 10½ sacks.
ILB Patrick Willis, 49ers — A great athlete, Willis is a natural tackler who is also good in coverage. Like the entire 49ers defense, he is being molded to reflect the intense personality of head coach Mike Singletary. He has been as productive as ever, recording 77 tackles, 2½ sacks, two forced fumbles and two interceptions in eight games.
CB Darrelle Revis, Jets — The nephew of former NFL standout DT Sean Gilbert, Revis is quickly building his own reputation as one of the better cornerbacks in the game today. He has done a number on some of the top wide receivers in the NFL, including Andre Johnson, Randy Moss and Marques Colston. In his third pro season, Revis is capable of eliminating half the field and is adept at using his athleticism to make difficult interceptions.
CB Charles Woodson, Packers — At 33 years of age, Woodson continues to perform at a top level. The offseason included a big change for the Packers' defense, switching from a 4-3 base to a 3-4 scheme, and it hasn't impacted Woodson in the least. He has snagged four interceptions, including two — one of which he returned 37 yards for a touchdown — in Week Two against the Bengals.
S Darren Sharper, Saints — After being phased out in Minnesota, Sharper signed a one-year deal with New Orleans, where he has exceeded expectations. At the age of 34, no NFL defender has made more big plays this season. Sharper has seven interceptions, which he returned for 317 yards and three touchdowns. In Week Two against the Eagles, he returned a pick 97 yards for a score. He took an interception 99 yards for a TD in Week Four vs. the Jets. Against the Dolphins in Week Seven, he returned an interception 42 yards for a TD.
S Brandon Meriweather, Patriots — The Patriots lost a ton of veteran leadership with the departures of Rodney Harrison, Tedy Bruschi, Mike Vrabel and Richard Seymour. But the defense has performed admirably, and Harrison has gone on record as saying that Meriweather is the team's defensive MVP. Meriweather is starting to show the instincts that made fellow Miami (Fla.) safeties like Ed Reed and Sean Taylor stars. Meriweather's breakout game came in London against the Buccaneers, when he snared two interceptions, returning one 39 yards for a touchdown.
Specialists
PK Sebastian Janikowski, Raiders — When an offense is as bad as the Raiders', it's good to have a kicker as reliable as Janikowski, who has connected on all 12 field-goal attempts.
P Shane Lechler, Raiders — After signing a contract in the offseason that made him the game's highest-paid punter, Lechler boasts a gross average of 52.3 and a net average of 44.9 — both of which are tops in the NFL.
PR Josh Cribbs, Browns — Universally considered one of the best returners in the game, Cribbs can run through tacklers and create his own luck. He's gaining 16.4 yards per punt return, taking one back for a touchdown. He also has a kickoff return for a score this season, giving him two of the Browns' seven total TDs in 2009.
KR Percy Harvin, Vikings — Harvin makes the All-Pro team as a rookie, despite not having returned kicks since high school. The Vikings saw evidence in the way he was used in the spread offense at Florida — good at working through traffic, taking good angles and making guys miss — and they believed those skills would translate well to the return game. On 28 kickoff returns, Harvin is averaging 30.7 yards and has brought back two for touchdowns.
Head coach
Josh McDaniels,Broncos — Not many gave him a chance when he was hired, and even fewer had faith in his ability after a stormy offseason led to his trading of franchise QB Jay Cutler. But McDaniels has built a solid staff of assistants, which includes a defensive coordinator in Mike Nolan who has successfully transformed that side of the ball, and gotten the most out of Kyle Orton by tailoring the offense to suit his strengths.