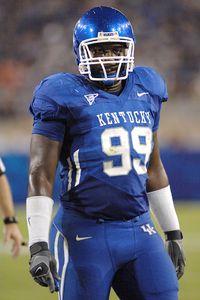 The NFL supplemental draft took place today, and the Redskins took defensive lineman Jeremy Jarmon in the third round of the draft. A total of five teams put in fourth-round claims for the 278-pound defensive end. The Redskins now have five remaining draft choices in the 2010 draft. They are now without third- and sixth-round picks.
Jarmon, the only player selected in Thursday's supplemental draft, is only the fourth supplemental choice on an active roster this year. The Chargers have two — defensive tackle Jamal Williams and safety Paul Oliver — and the Ravens have one — left tackle Jared Gaither. Jarmon is the first supplement pick selected since 2007.
The reason the Redskins needed to look for a young defensive end is because they have too much age at the left end spot of their defensive line. Phillip Daniels is 36 and Renaldo Wynn is 34. The Redskins can develop Jarmon over the next year to take over the starting job and maybe help at defensive tackle on passing downs.
The 6-foot-3, 278-pound Jarmon left Kentucky because he was declared ineligible for his senior year because of a failed drug test after testing positive for a banned diuretic supplement. Jarmon fits perfectly in a 4-3 defense. He can play end or tackle.
Jarmon took the supplement while recovering from a shoulder injury and was not taking part in activities. He had been taking the supplement for 15 days before checking with the training staff, who told him to stop taking it.