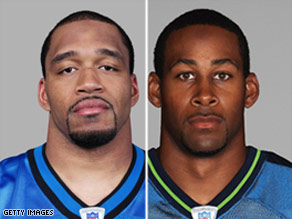 Two NFL players are among four that are missing as the boat they were on did not come back from a fishing trip that took place on Saturday in Florida.
Detroit Lions defensive end Corey Smith and Oakland Raiders linebacker Marquis Cooper were two of the four men missing since their boat disappeared on Saturday in waters off Clearwater, Florida.
Smith, currently a free agent with the NFL, played defensive end for the Detroit Lions last season. The Coast Guard said it was directing an extensive search Sunday for the boaters.
Searchers were focusing on an area about 50 miles west of Clearwater Pass, where the four embarked from the Seminole Boat Ramp about 6:30 a.m. Saturday, the Coast Guard said in a statement.
The search began around 2 a.m. Sunday after Coast Guard personnel got a tip from a caller that four men — identified by the Coast Guard as Victor "Marquis" Cooper, Nick Skyler, Corey Smith and William Bleakley — did not return from their fishing trip as expected.
The Coast Guard dispatched a 47-foot Motor Lifeboat, HH-60 Jayhawk helicopter, C-130 Hercules fixed-wing planes and a Cutter Crocodile to search 750 square miles west of Clearwater Pass.
The Coast Guard has asked anyone with information on the boaters to contact their St. Petersburg, Florida, sector at 727-824-7506.