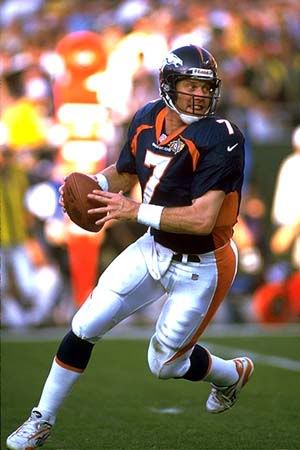 The NFL will salute four decades of champions during Super Bowl XLIII at Raymond James Stadium in Tampa Bay on Feb. 1, it was announced today.
The Super Bowl coin toss ceremony moments before the start of the game will include greats from Super Bowls 10, 20 and 30 years ago — LYNN SWANN (Super Bowl XIII, 1979), ROGER CRAIG (Super Bowl XXIII, 1989) and JOHN ELWAY (Super Bowl XXXIII, 1999). JOE NAMATH (Super Bowl III, 1969) will participate in the Vince Lombardi Trophy presentation following the game. Both will be televised live by NBC
Viewed by more than 148 million people in the U.S. last year, the Super Bowl is annually the nation's most-watched TV program. The game also will be broadcast in more than 230 countries and territories.
Swann, Craig and Elway join an esteemed list of Super Bowl coin toss participants, including MARIE LOMBARDI, wife of Vince Lombardi; and Pro Football Hall of Famers EARL CAMPBELL, FRANK GIFFORD, RED GRANGE, GEORGE HALAS, DON HUTSON, TOM LANDRY, DAN MARINO, BRONKO NAGURSKI, ALAN PAGE, ART SHELL, and GENE UPSHAW (see below for complete list of past coin toss participants).
The two-tone commemorative flip coin is silver with 24kt gold highlights and is minted by The Highland Mint Company. The coin will feature the Super Bowl XLIII logo on one side and the Lombardi Trophy and competing team logos on the other.
Namath will continue the tradition of Super Bowl legends in the Lombardi Trophy ceremony, which began with Bart Starr's participation in Super Bowl XL. Previous participants include Coach Don Shula (Super Bowl XLI) and Doug Williams (Super Bowl XLII).
Namath led the New York Jets to a 16-7 victory over the Baltimore Colts in Super Bowl III and claimed the Most Valuable Player award. Namath became the first player ever to pass for 4,000 yards, posting 4,007 in 1967, and finished his Hall of Fame career with 27,663 passing yards and 173 touchdowns.
Swann earned four Super Bowl rings with the Pittsburgh Steelers and claimed the game's MVP award in Super Bowl X. The Hall of Fame member received All-Pro recognition in 1975, 1977 and 1978 notching 336 receptions, 5,462 yards and 51 touchdowns throughout his career.
The first player to score three touchdowns in a Super Bowl, Craig earned three Super Bowl rings during his career, including the 49ers' Super Bowl XXIII victory. Craig made four Pro Bowl appearances and rushed for 13,143 yards and 73 career touchdowns.
The Super Bowl XXXIII MVP, Elway led the Denver Broncos in their five Super Bowl appearances during his tenure. Voted the NFL's MVP in 1987, Elway, also a member of the Hall of Fame, passed for 51,475 yards and 300 touchdowns during his career.