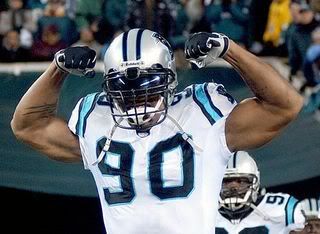 From all indications, Panthers DE Julius Peppers has played his last game in Carolina. The stud defensive player has let the Panthers know that he will look to play elsewhere in 2009, as he is about six weeks away from being a free-agent.
"The front office has been informed of my desire to explore opportunities with other NFL teams following the expiration of my contract next month," Peppers said in a statement released by his agent Carl Carey. "At this point in my NFL career, I am seeking new challenges that will allow me to grow, develop and reach my personal potential on the football field.
"I strongly feel that making a move at this time is in my best interest. I appreciate the entire Panthers organization and am thankful for the seven seasons I've spent with the team."
The Panthers have the option to franchise Peppers, which would mean paying him nearly $17 million next season.
"Julius is firm in his decision that he needs a change," Carey said. "He feels that he can thrive in another system. While he has been selected to four Pro Bowls and designated as an All-Pro during his career, he feels that he has yet to develop to his full potential. This is the case of a great player who seeks to become an elite one."
Peppers this past season had 51 tackles, five forced fumbles and 14.5 sacks. In his seven year career, all with the Panthers, the 28-year-old (he'll be 29 Sunday) Peppers has 70.5 sacks and 25 forced fumbles to go along with four interceptions and one touchdown.