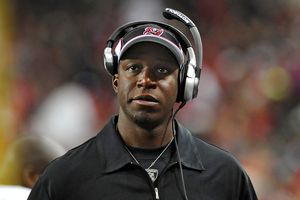 It is seeming like more and more that current Bucs Defensive Coordinator Raheem Morris is going to be the new head coach in Tampa Bay. Morris, who was put in charge of the Bucs D when Monte Kiffin announced he was heading to join his son at Tennessee, was a finalist for the Broncos coaching job that went to Josh McDaniels.
Now it looks as if the Glazer's, who shocked everyone with the firing of coach Jon Gruden and GM Bruce Allen on Friday, like what they see from Morris, and it's being reported that Morris will be the head coach, and long-time personnel executive Mark Dominik will take over as the teams GM.
The reported final straw for Gruden was the meetings that Glazer had with some players, who said the chemistry of the team was not very good, and that showed as the team limped down the stretch and when the playoffs were on the line, they lost two home games to the Chargers and then the Raiders.
There was thought at first that the Glazer's had something up their sleeve, such as an agreement in place with a high profile coach like Mike Shanahan or Bill Cowher. That now seems to not be the case, as Morris is the clear front runner for the coaching spot.