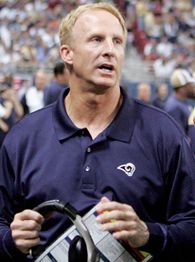 The St.Louis Rams will have a new coach when they take the field for opening day in 2009, as interim coach Jim Haslett was told today that he would not be coming back as the teams head coach. Haslett was informed of the decision today by owner Chip Rosenbloom and general manager Billy Devaney. There were also indications that the Rams might be making additional "cuts" in their coaching field as they zero in on their next head coach states STLtoday.com.
Haslett took over the team for Scott Linehan, who was fired after the team started 0-4. The team came out of the bye week and in their first game with Haslett upset the Redskins 19-17, and then the next week shocked the Cowboys 34-14 at home. Then though, the team went in the tank, as they never won again, losing their last 10 games to finish the season at 2-14.
"Jim took over an impossible situation," St. Louis general manager Billy Devaney said. "He kept the team focused and playing hard and, as an organization, we are much better off for his contribution.
"We decided that, after going through the interview process and in the spirit of that process, it was best to let Jim know that we are going to go in a new direction."