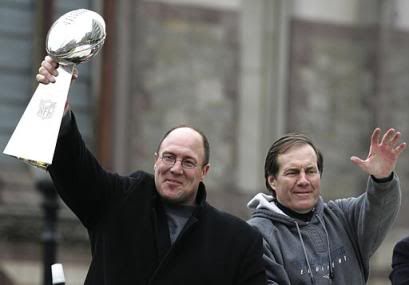 Scott Pioli has been named Kansas City Chiefs new Head of Football Operations.
Pioli 43, had been with the Patriots for nine years. It is being reported that Patriots director of player personnel Nick Caserio will replace Pioli. People inside the Patriots complex were reported as saying that Pioli was cleaning out his office tuesday afternoon.
The 43-year-old Pioli will be introduced on Wednesday replacing Carl Peterson. "He will have complete charge of football operations," Ryan Petkoff, a spokesman for Chiefs chairman Clark Hunt told the media. "He will report only to Clark."
The Chiefs are about $32 million under the salary cap, extra money that will come in handy because KC owns the overall No. 3 pick in the draft.
"We are very excited to welcome Scott to the Chiefs," Hunt said in a statement. "With his proven track record of success, Scott is the finest player personnel executive in the NFL, and we look forward to his leadership in building a championship organization."
Pioli's old boss Robert Kraft had nothing but praise for the young executive calling him an "integral part of their many championships".
"Scott is a great evaluator of talent," Kraft said. "He is thorough in his evaluations, extremely organized and has done a tremendous job mining all possible resources to help coach Belichick and his staff field the players needed to win consistently. He has played an important role in building a championship tradition with players that I am proud to call Patriots."
Head Coach Bill Belichick had this to say, "To sum up in words everything Scott Pioli has meant to this organization and to me personally would be difficult, if not impossible. From the day I met him, he has demonstrated a passion for football and respect for the game that is second to none."
Does this hiring mean that Herm Edwards is out and Kirk Ferentz is in? That decision has yet to be made according to team sources in Kansas City.