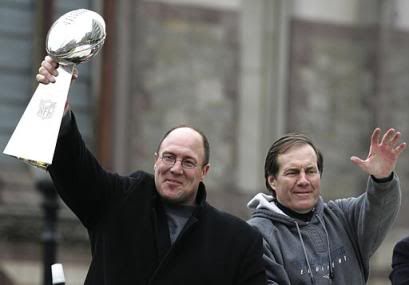 The second the regular season concluded there were two legitimate suitors in the Scott Pioli sweepstakes, Cleveland and Kansas City. With the odd decision of Browns owner Randy Lerner to hire a coach (Eric Mangini) before a G.M. he may have played himself out of contention with Pioli.
Browns new coach Eric Mangini and Scott Pioli have a history and after the "Spy Gate" debacle it is hard to imagine these two working together again. With Cleveland eliminated Detroit does remain a possibility but the Chiefs job appears to be much more attractive, more cap space, Detroit needs to be blown up and rebuilt the Chiefs are already a year into the rebuild, the Chiefs already have a fan base that has produced a sellout streak spanning 15 plus years and the Chiefs don't have the dubious distinction of going 0-16.
In addition the Chiefs will be playing in a completely renovated Arrowhead stadium in 2010, with that being said a Pioli to Chiefs marriage makes to much sense not to happen the only other real possibility is for Pioli to return to the Patriots and remain right hand man to Bill Belicheck who has complete control over football operations.
Pioli has turned down jobs in New York and Atlanta previously but this is the most serious Pioli has appeared to make his own name since he arrived in New England. Rumors have swirled that Pioli may want complete control of football operations and Chiefs Owner Clark Hunt has stated that he will separate the president and G.M. duties both of which were previously held by Carl Peterson, Pioli's camp has denied this rumors .
Pioli will want complete control over the hiring and firing of coaches and is said to want to surround himself with "his people", this would appear to be bad news for current Chiefs head coach Herm Edwards. Herm has no connection to Pioli and has not really added to his resume the past two seasons, to add insult to injury for Herm, Pioli is said to want to bring in current Pats offensive coordinator Josh McDaniels as his coach to whatever job he gets.
Chiefs owner Clark Hunt interviewed Pioli earlier this week and while Pioli contemplates his decision Hunt will be interviewing other candidates but no perspective G.M. in the NFL carries the resume of Pioli. Bottom line the job is Pioli's if he wants it.