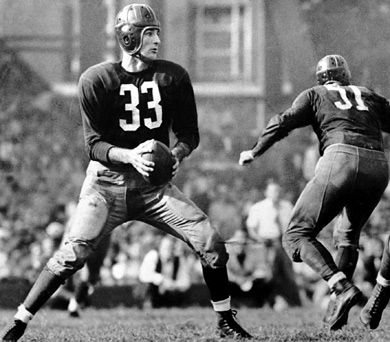 Sammy Baugh, who set numerous passing records with the Washington Redskins in an era when NFL teams were running most every down, died Wednesday night, his son said. Baugh, who was 94 and had numerous health issues, died at Fisher County Hospital in Rotan, David Baugh said.
David Baugh said his father had battled Alzheimer's and dementia for several years. "It wasn't the same Sam we all knew," his son told The Associated Press. "He just finally wore out."
By the time he retired, Baugh set 13 NFL records in three player positions: quarterback, punter, and defensive back.
Two of his records as quarterback still stand: most seasons leading the league in passing (six; tied with Steve Young) and most seasons leading the league with the lowest interception percentage (five). He is also second in highest single-season completion percentage (70.33), most seasons leading the league in yards gained (four) and most seasons leading the league in completion percentage (seven).
As a punter, Baugh retired with the NFL record for highest punting average in a career (45.1 yards), and is still 2nd all-time (Shane Lechler 46.5 yards), and has the best (51.4 in 1940) and third best (48.7 in 1941) season marks. As a defensive back, he was the first player in league history to intercept four passes in a game, and is the only player to lead the league in passing, punting and interceptions in the same season.[1][8] Baugh also led the league in punting from 1940 through 1943.