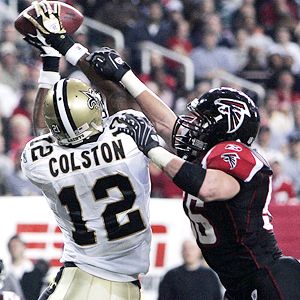 By Josh Satler from www.profootball101.org
In our Week 9 picks, we were 1-2 vs. the spread: The Giants, favored by 9, destroyed the Cowboys and won going away by 21. For our money line choice, Green Bay (+200) took Tennessee to the limit but lost in OT 19-16. Had you taken them at +5, you'd have more money in your pocket for this week. Here's who we at Pro Football 101 like for Week 10 of the NFL season.

Best Bet:
1. New Orleans Saints (+1.5) vs. Atlanta Falcons. The Saints come into this game off a 37-32 victory over the Chargers and are well rested after the bye. The Falcons are coming off a 24-0 shellacking of the hapless Oakland Raiders. We like the Saints to pull off the mini-upset because Brees is playing lights out these days and now has two of his favorite targets back in the lineup: Shockey and Colston. We just don't feel that Atlanta will be able to keep pace with the Saints' scoring and that's why New Orleans is our best bet of the week.
Next in Line:

2. Green Bay Packers (+2.5) vs. Minnesota Vikings. This game is usually a hard fought contest between division rivals and we see that taking place once again this Sunday. Although the Vikings have won a few close games of late – to pull its record to 4-4 – they have not done so in impressive fashion: a 2-point victory over the winless Lions and a TD over the Schaub-less Texans. Look for Green Bay to come out in passing mode on Sunday and take advantage of the mismatches its receivers present for the Vikings' secondary. While Minnesota will once again look to feature AP (Adrian Peterson), we don't think Frerotte will do enough through the air and we see GB pulling out the W.
3. Arizona Cardinals (-9.5) vs. the San Francisco 49ers. The Cardinals will look to make a statement this Monday Night and inch closer to an NFC West Division crown. The Niners are coming off an embarrassing loss in which Mike Singletary, the team's interim coach, pulled his pants down at half time to illustrate for his team what the opponent was doing to them. Offensively, look for Warner and his receivers to put on an aerial show while on defense, for the Cards to take away RB Frank Gore and the Niners' running game and force QB Shaun Hill into mistakes and turnovers. Easy victory.
4. New York Giants (+3) vs. Philadelphia Eagles: See money line at the bottom.
Others we like:
Carolina Panthers (-9.5) vs. Oakland Raiders. The Raiders only managed 77-yards last week. Hard to score points with outputs that feeble.
San Diego Chargers (-15.5) vs. Kansas City Chiefs. We think the change at defensive coordinator will have a profound effect on the Chargers Defensive' unit. And while the offense is piling up points, the defense will be keeping the Chiefs out of the end zone.
Miami Dolphins (-8.5) vs. Seattle Seahawks. If the Seahawks last two east coast trips are any indication (34-10 loss to Buffalo and 44-6 loss to NYG), look for Miami, who is playing well right now, to win this one by double digits.
Money Line:
New York Giants (+130) vs. Philadelphia Eagles. The Giants come into this game sitting atop the NFC East with a 7-1 record and having won 12 of its last 13 games on the road. The Eagles come in after two straight victories – over the Falcons and Seahawks – and have improved its record to 5-3. We think the game will be close, but in the end, we like New York's physical and mental toughness to be the deciding factor. The Giants' defense is playing lights out lately, and one thing we know for certain is that if the game is close in the 4th quarter, Eli Manning will outperform Donovan McNabb every day of the week and twice on Sunday. Look for the Giants to move to 8-1 and widen its lead in the NFC East.