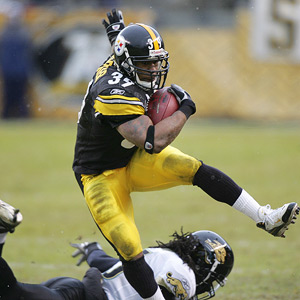 While coach Mike Tomlin spent time talking about QB Ben Roethlisberger on Sunday and his hurt hand, today the attention shifted to the running game, and how star back Willie Parker will be out for Monday night's showdown at home vs the Ravens.  Tomlin said today that Parker has a sprained left knee, and that he'll be out for the game, but didn't give a time table as to how long he'll miss.
"He came out (of the game) and we knew he was uncomfortable," said head coach Mike Tomlin. "We didn't get the information until (Monday) when we were able to run some tests."  Parker hurt the knee during the 15-6 loss to the Eagles on Sunday in Philly.
With Parker out the bulk of the carries will shift to rookie Rashard Mendnehall, who just became a big hit in fantasy football.  Mendenhall had one carry for 10 yards vs Houston in the opener, and no carries the last two weeks.  "Rashard is ready," said Tomlin. "He is a talented guy. He has been practicing well.

"He gets his opportunity and that is what team football is about. You look at his peers around the league and they've been getting opportunities, partly because they don't have Willie Parker playing in front of them. He gets his opportunity. I am sure he is excited about it. I know our team is excited to see what he is capable of doing. What better way to start than on Monday Night Football against the Baltimore Ravens."
There are two other Steelers that will be out for Monday's game vs the 2-0 Ravens – NT Casey Hampton will miss the game with a groin strain and the team will also be without DE Brett Keisel again with his calf strain.  Chris Hoke will start for Hampton at nose tackle and Travis Kirschke, who is likely to start again this week for Keisel at defensive end, will serve as Hoke's primary back-up.