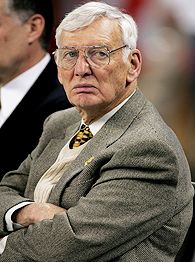 The Steelers being owned by the Rooney family took a large step forward on Thursday, as billionaire suitor Stanley Druckenmiller withdrew his offer to buy a majority stake of the franchise. "Based on recent developments, it has become clear that the Rooneys need substantial additional time to assess their options," Druckenmiller said in a statement. "I do not wish to complicate these efforts, and I also do not want the lingering uncertainty about my possible involvement to become a distraction to my business and my family."
The Rooney family had went to Druckenmiller a few months back and asked about buying their shares of the team to help resolve estate planning and NFL ownership matters. Dan Rooney, who also wanted to buy his brothers out, owns 16 percent of the team, and now it appears that the ball is back in his court to try and get the money to buy the other brothers out and keep the franchise in the Rooney name.

The NFL wants one owner to control at least 30 percent of the team, and there is no doubt they would like that owner to have a last name of Rooney. For now, it appears that Dan and son Art II will keep looking for financing to buy the brothers out.