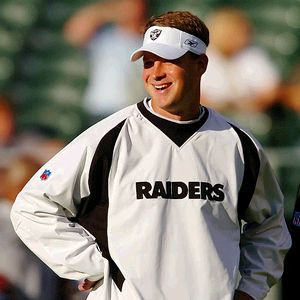 The Raiders were pounded bad on Monday night by the Broncos, and according to a report it may be the end for head coach Lane Kiffin. The San Jose Mercury News is reporting that Kiffin has come under fire again by Al Davis, and the coach could be fired as early as Monday – win, lose or draw today in Kansas City. It seemed like Kiffin may have seen this coming, as he stated the following Wednesday.
"You have to look at the history. History is what it is, that (Davis) doesn't keep people very long. We don't have a general manager," Kiffin said. "Everything goes through (Davis). That sets up a difficult situation at times. Knowing who the owner is, you know from Day One there's no job security."
Davis has only canned one coach during the season in 46 years, firing Mike Shanahan (who went on to win two Super Bowls with the Broncos) after four games into the 1989 season. Defensive coordinator Rob Ryan came out this week as well after the Monday beating and spoke in favor of Kiffin, and said that what took place Monday night was not Kiffin's fault.
The report in the paper says that Davis reached a decision about Kiffin before Monday night, but you have to believe that what took place at home could have pushed that decision to be made even quicker. Ryan and WR coach James Lofton would likely be the top names to take over for Kiffin when he's canned.