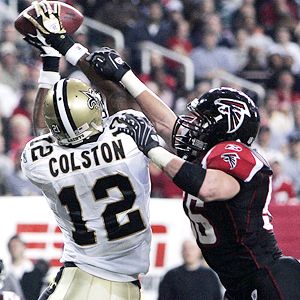 The Saints will be without one of their big weapons on offense for the next 4-6 weeks, as the team announced that wide out Marques Coltson had surgery on his left thumb and will be out for the lineup.  The injury took place during the teams win over Tampa Bay on Sunday, as he suffered a torn ligament on his thumb when he reached forward looking to make a catch and took a helmet-first hit to his hands.
The receiver tried to and was able to keep playing, but ended the game with only three grabs for 26 yards.  His 168 catches are more than any NFL receiver has ever had through only two seasons.  He is the best wide out on the team, and not having him in the lineup is going to put more pressure on the rest of receiver core and new TE Jeremy Shockey.
Plus you can bet that the team is also going to have to get more out of the running game as well.  They rushed for 101 yards on 27 carries vs the Bucs, a 3.7 yards per carry average.  Reggie Bush was the teams leading pass catcher, pulling in eight passes for 112 yards and a touchdown.