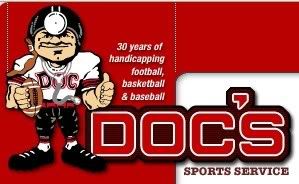 NFL Gridiron Gab along with Doc's Sports is joining forces to give away to five lucky fans brand new editions of their new 2008 Doc's Sports Journals!  These handy guides are great for the 08 season, and are complete with everything you need to know for Sunday afternoon wars.
Doc's 2008/09 Sports Journal is a 120-page football schedule that includes every NCAA Football and Pro Football game from preseason in the beginning of August through the Super Bowl. Be sure to visit each of the individual handicapper pages under "The Advisory Board" section on the left side bar for free football picks with detailed analysis.
Be sure to visit our home page for free football picks with detailed analysis as well as free game matchup reports and updated sports handicapping articles at www.docsports.com
The Schedule includes:
* Exclusive information and articles
* College and NFL Team Information
* College and NFL Statistics
* Odds, Trends, Historical Angles
* Individual Game information Including:
(Kick off time, Artificial Turf vs. Grass, Match-up information, Last years Final score, Next weeks opponent.)
* An excellent handicapping tool
All you have to do to be in the drawing for one of these guides is send an email with "Send me a Guide" typed in the subject line to: matt@nflgridirongab.com
Include in the email your mailing address, and we'll notify you if your a winner to be on the lookout for one of these great guides!  We'll also post a list of five winners on Thursday.