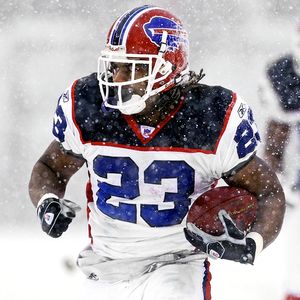 By Andy Benoit, www.NFLTouchdown.com
Predicted: 3rd
2007 Record: 7-9 (2nd AFC East)
Head Coach: Dick Jauron (third year)
Roster Quick View
*rookie
**new veteran
Offense
QB: Trent Edwards
Has accumulated some admirers but has plenty to prove. Added 15 pounds of strength over the offseason. Will be given more audibling freedom in '08.
RB: Marshawn Lynch
Runs with Marion Barber-esque tenacity, and shows subtle elusiveness at times. Needs to do a better job at letting his holes develop.
FB: Darian Barnes
Will be used as a traditional lead-blocker now that new offensive coordinator Turk Schonert has done away with the H-back position.
WR: Lee Evans
In the final year of his contract. Buffalo needs to lock this guy up––he's easily one of the top 10 WR's in the game.
WR: James Hardy*
Tallest player ever drafted by the Bills (6'7"). Also has a 39-inch vertical and 10-inch hands. Think he might help the red zone offense?
TE: Robert Royal
Veteran leader who dropped his body fat percentage from 18 to 8.2. Coming off knee surgery, but blocking prowess should allow him to maintain a starting job.
LT: Jason Peters
Holding out, and rightfully so. One of the best LT's in football. But, under his original RT contract, he's only the team's third-highest paid O-lineman.
LG: Derrick Dockery
Classic B-grade player (A is great, C is average). Held down by the shoddy starters to his right.
C: Melvin Fowler
Competes hard, but has a dire lack of power. Couldn't get to the second level to save his life.
RG: Brad Butler
RT: Langston Walker
Doesn't have the quickest feet, but solid technique and 6'8", 366-pound size allow him to consistently square up on defenders.
—————————–
QB: J.P. Losman
Has remained a team player since demotion, but wants to be traded. Problem is, wherever he goes, he'd likely be a backup there as well.
RB: Fred Jackson
Second-year player from Coe College. Averaged 5.2 yards per carry last season, but saw just 58 attempts.
WR: Josh Reed
Only serviceable as a possession receiver out of the slot.
WR: Roscoe Parrish
Punt returning magician who doesn't make a profound impact on offense. That's fine.
TE: Derek Schouman
Rising second-year player who impressed coaches during the offseason. Could push for a starting job, though is likely to come off the bench in '08.
OL: Kirk Chambers
Might fill in at LT if Jason Peters is out.
Defense
LDE: Chris Kelsay
Plays with energy, but frankly, doesn't contribute a whole lot. Not a frightening pass-rusher, and can't hold ground against the run.
DT: Marcus Stroud**
Brought in for a third-and fifth-round draft pick. Still looking to regain his Pro Bowl form after serious ankle surgery in '06.
DT: Kyle Williams
Fringe starter who needs to show more power against the run. Given three-year, $14.5 million contract extension. Why?
RDE: Aaron Schobel
Became the highest-paid Bill in history last year (though not if you count Al Gore's electric bill). Sack totals dropped, but he still pressured passers.
SLB: Angelo Crowell
Fourth in the AFC in tackles in '07, but Buffalo ranked 25th against the run in part because he doesn't always shed blocks or take smart angles to the ball.
MLB: Paul Posluszny
One of the best college linebackers of all time. Rookie season was lost when he broke his arm in Week 3. Many expect him to ignite the front seven in '08.
WLB: Kawika Mitchell
Always exceeds expectations. Will have to really thrive to do so this year, as he brings valuable Super Bowl experience from New York.
CB: Terrence McGee
Playmaker who devours slower opponents. Ranks somewhere in the second echelon of cornerbacks.
SS: Donte Whitner
Plays the game 100 mph; his best work actually comes when he's operating in traffic near the line of scrimmage.
FS: Ko Simpson
Coming back from a broken ankle. Factor in his minimal experience, and the '06 fourth-rounder becomes a fairly big question mark.
CB: Leodis McKelvin*
Widely considered the best CB in this year's draft. Played in middling Sun Belt Conference, but is said to have the technique and raw skills to thrive right away.
——————————
DL: Ryan Denney
Adequate backup who is essentially another version of Chris Kelsay.
LB: John DiGiorgio
Started because of injuries last season. Is a much better fit in a utility backup role.
NB: Jabari Greer
Coming off a fantastic '07 campaign that was worthy of casual Pro Bowl consideration. Can clamp down on a wide receiver.
Key Players Acquired
Te Courtney Anderson (Atl)
CB William James (Phi)
DT Spencer Johnson (Min)
LB Kawika Mitchell (NYG)
LB Donnie Spragan (Mia)
DT Marcus Stroud (Jax)
Key Players Lost
WR Sam Aiken (NE)
CB Jerametrius Butler (NO)
TE Michael Gaines (Det)
LB Mario Haggans
DE Anthony Hargrove (suspended)
LB Leon Joe (TB)
S Jim Leonhard (Bal)
WR Peerless Price
LB Josh Stamer (Ten)
RB Anthony Thomas
CB Kiwaukee Thomas
DT Larry Tripplett (Sea)
CB Jason Webster (NE)
LB Coy Wire
It's always a positive sign when a team can dump this many veteran contributors and not have to replace them. That means the young players are developing. Absolutely none of these departures will be missed. Some were valuable in kick and punt coverage, but special teams mastermind Bobby April will figure out a way to fill their void. Of the players brought in, Mitchell is the most significant, though Stroud is the most recognized. The former brings great playoff experience and the latter is a three-time Pro Bowler (though he must prove he's still formidable after his '06 microfracture ankle surgery). Johnson can help the run defense. James will be a very good dime back.
McKelvin is a playmaker (4.38 speed) who is said to possess tremendous man-to-man abilities. Hardy could prove to be a monster. At 6'7" and with a 39-inch vertical, he'll at least improve the moribund red zone offense. Ellis was a productive pass-rusher in the ACC; a lot of 3-4 teams considered him a potential OLB. Corner is a solid corner (think anyone has ever made that play on words?) who brings depth. But he won't play much in '08. Aside from special teams, neither will the rest of these rookies.
Buffalo Bills 2008 Preview Report
It's both inspiring and heartbreaking. The Buffalo Bills are like a scrawny, small town middle schooler who privately busts his tail everyday in hopes of somehow capturing the 12th spot on the basketball team. He'll be given a chance, but considering he must beat out the fleet-footed, high-jumping, six-foot-something monster from New England, you know he won't actually have a chance.
Hailing from the tiny Western New York market, the Bills are the closest thing the NFL has to an underdog. Their legacy is that they once lost four consecutive Super Bowls. Currently, their eight-year playoff drought is the longest in the AFC. Their last postseason showing was the '99 Wild Card round, when they were victimized by the Music City Miracle.
Yet, despite their struggles, the Bills are stampeding on. And owner Ralph Wilson Jr., along with the remade front office and head coach Dick Jauron, are doing things the right way. They're drafting and developing players, tweaking and solidifying schemes and reaching out to fans both old (Orchard Park) and new (Toronto). The Bills are pining to be winners.
Buffalo GM Marv Levy retired for good following the '07 season. During his two-year start, Levy drafted seven starters and a slew of significant backups. He also hired Jauron in '06, establishing the team with a firm Cover 2, ball-control identity to carry into the future. This past offseason, Jauron worked closely with Levy's replacement, CEO Russ Brandon, as well as influential vice presidents Tom Modrak and John Guy, to maintain the club's ascension. Aside from not addressing the feebleness of the interior offensive line, they did a great job.
Needing to invigorate a run defense that ranked 25th last year, the Bills traded for Jacksonville's three-time Pro Bowl defensive tackle Marcus Stroud. They also signed Minnesota's underrated run-stopper Spencer Johnson. The healthy return of second-year middle linebacker Paul Posluszny will help, as will the addition of rock-solid outside linebacker Kawika Mitchell. Mitchell devoured Buffalo when the Giants visited town in Week 16 last year. His leadership and playmaking prowess will be valuable.
Looking to buckle down against the pass, the Bills drafted highly-touted cornerback Leodis McKelvin 11th overall. They also added depth by signing William James. With free safety Ko Simpson healthy, Buffalo is expected to improve its 29th-ranked pass defense.
Offensively, the Bills are carefully developing second-year talents Trent Edwards and Marshawn Lynch. Both showed some promise as rookie starters last season. They'll be playing for former quarterbacks coach Turk Schonert, who replaces the banal Steve Fairchild as the offensive coordinator and play caller. Schonert expects to bring a greater emphasis on the short passing game, expanded audibling options for the quarterback and offer more creativity overall (though which new play caller isn't expected to be more creative?).
Overall, the Bills are building a system. Ralph Wilson and the men in suits are also making great strides from a business standpoint. Needing to generate more revenue in order to avoid relocation, the Bills orchestrated a deal with Rogers Communications to play eight home games over the next five years at the Rogers Centre in Toronto. The NFL approved this unconventional marketing ploy, and the Canadian people validated it. There is a waiting list of 180,000 just to enter the ticket pool for Buffalo's games north of the border. And the average ticket costs $183, which more than doubles the average price of the NFL's most expensive ticket (New England). All this has produced around $8 million in additional annual revenue for the Bills.
But this is the part where you remember that as every glimmer of hope pops up in Buffalo, the Patriot mallet is there to bop it back down.
Even the success of the Bills' Canadian venture doesn't shine next to New England. After all, the Patriots don't need to outsource their fan base. They hail from the sports-crazed Boston market and are a fixture on national TV. They're so prosperous that owners and fans actually grumble when the team is awarded a primetime game (makes for a late night). When the Bills returned to Monday Night Football last October, it was a red letter day in Western New York. And when the Bills were flexed into a Sunday night game in Week 11, the region went nuts. Until the Patriots came in and won 56-10.
The Patriots are always quashing the Bills' hopes. For example, Bills quarterback Trent Edwards had a great offseason, adding 15 pounds of muscle and devouring the more complex playbook. The Patriots' quarterback had a great offseason––he came out of it and was still Tom Brady.
Speedy Bills receiver Lee Evans is an unheralded stud who can stretch the field and also make unexpected big plays over the middle. He's in the final year of his contract and eager to sign a well-deserved top-dollar extension. The Patriots have Randy Moss.
Running back Marshawn Lynch is a rising star coming off a 1,115-yard rookie season. The Patriots don't really need to run the ball. But if they did, you can bet Laurence Maroney would match Lynch stride for stride.
Buffalo finally invested in its offensive line last season, signing guard Derrick Dockery and right tackle Langston Walker to nearly $75 million worth of long-term contracts. Plus, budding left tackle Jason Peterson (who held out for a new contract), went to his first Pro Bowl. The Patriots sent three offensive linemen to Hawaii last season. Oh, and all of their players showed up for training camp.
The Bills have an improved front seven, led by last year's second-round linebacker Paul Posluszny and Pro Bowl-caliber defensive end Aaron Schobel. The Patriots like the direction of their front seven now that 10th-overall pick Jerod Mayo has arrived. They're also pretty high on future Hall of Fame defensive end Richard Seymour.
Under the guidance of renowned assistant coach Bobby April, the Bills have the NFL's finest special teams. Okay, the Pats are mediocre on special teams. Oh, but they did have the first-and fourth-ranked regular teams last year.
The Bills have fortified their coaching staff under Dick Jauron, posting surprising 7-9 records each of the past two years. The Patriots are led by Bill Belichick. They're 28-4 the last two years..
Well, uh…the Bills are more likeable. They're a blue-collar organization that exemplifies the integrity of the game. They'd never run up the score get entangled in a controversy like Spygate or be aloof toward opponents and reporters. The Patriots don't give a damn.
Offense
Let's get one thing clear: there is no quarterback controversy in Buffalo. Trent Edwards is the starter, J.P. Losman is the backup. This is justice. Despite the fact that Edwards was drafted in the third round, and Losman in the first, there is a noticeable pro-Edwards discrepancy between the two. Even with a mildly unorthodox throwing motion, Edwards is the more refined passer. Losman is known for his mobility, but Edwards is comparable in this sense. On top of athletic skills, Edwards is the more mature decision-maker. Losman can be a spark off the bench, but only if Edwards gets hurt.
The Bills will ask their second-year passer to open things up a bit in '08. Edwards's quarterbacks coach, Turk Schonert, is calling the plays as the coordinator. Schonert has expanded the passing game and bestowed more audibling freedom for the young signalcaller.
Aiding Edwards's efforts is the arrival of James Hardy, a desperately-needed No. 2 receiver who will complement Lee Evans. Hardy––drafted 41st overall out of Indiana––has the size and leaping ability of an NBA small forward. His 4.49 speed makes him a weapon downfield, and it goes without saying that he can be a possession option in high-traffic areas (like, say, the red zone, where Buffalo's 30th-ranked offense ranked, whatdaya know, 30th last year).
Evans will still be option numero uno in 2008. Out of the media spotlight and playing for a team with a wavering passing attack (thanks in part to the gales of Ralph Wilson Stadium), the fifth-year pro might be the most overlooked wideout in the game. Evans has posted more prolific receiving numbers through the first four years to start a career than any Bill in history. His five touchdowns of 70-plus yards tie Chad Johnson for the most in the NFL since 2000 (and Evans wasn't even drafted until the first round in '04).
There is a caveat with both wideouts: Hardy was up and down in college, and Evans has been known to go missing every few Sundays. It's important that Hardy and Evans curtail the inconsistency that flecks their good names. The Bills do not have a lot of options outside these two. Seventh-year pro Josh Reed is an adequate slot receiver, though he's only effective in short yardage. Roscoe Parrish can fly in the return game, but it's a different story when he's with the mainstream offense.
Tight end Robert Royal is a pragmatic run-blocker who offers virtually nothing as a receiver. That's why second-year pro Derek Schouman is pushing him for playing time.
Schonert wisely wants to get running back Marshawn Lynch more involved in the passing attack in 2008. Lynch is alert in space and capable of snagging balls on the fly. He must, however, make significant strides in blitz pickup (especially considering that neither Edwards nor Losman have proven capable of withstanding big hits). If Lynch struggles in this sense, the Bills have only Fred Jackson and Dwayne Wright to turn to.
Lynch's signature is his tenacity. He gained 1,115 yards on the ground last season––seemingly all of them on a second effort. Lynch runs with power and elusiveness, but his career won't take off until he becomes more patient. Too often he will crowd his blockers and attack a hole that hasn't developed. Incorporating a classic fullback like Darian Barnes into the offense could help calm Lynch. Barnes is not a road-grader, but he's at least someone to follow.
In Lynch's defense, the holes in front of him don't always develop. Such is going to be the case when Melvin Fowler is at center and Brad Butler at right guard. Both are intelligent players, but both lack the necessary power to survive inside. Neither gets a push or reaches the second level. This puts serious limits on how the Bills can use left guard Derrick Dockery, and it also stunts the impact of punishing left tackle Jason Peters.
Peters is an animal in space, possessing a deer's fluidity and a grizzly bear's force. He is understandably unhappy about his contract, as he entered training camp (or rather, didn't enter training camp) as the team's third-highest paid lineman. Formerly an undrafted tight end, the 27-year-old Pro Bowler has three years remaining on a deal he originally signed as a right tackle.
The contract that Langston Walker signed as a right tackle last season is worth $5 million a year. So far, Walker has earned his check. Should Peters miss significant time in '08, Walker would or the Bills could turn to Kirk Chambers to protect Edwards's blind side. Chambers may not be able to survive even in short spurts, but Buffalo has few options off the bench. The rest of the front line depth is relegated to guard, namely in unpolished Duke Preston (who should be starting ahead of Butler) or oft-injured Jason Whittle (coming back from a severe groin tear).
Defense
The Bills ranked 31st in yards allowed last season, but because they were stout in the red zone, they gave up only the 18th most points. Nevertheless, Dick Jauron and coordinator Perry Fewell are focused on making significant strides in 2008. Any progress will derive from the middle, where the Bills feature a different defensive tackle (Marcus Stroud), middle linebacker (Paul Posluszny) and free safety (Ko Simpson) than last season. All three are upgrades over their predecessors/fill-ins.
Stroud could be the first Bills interior lineman to draw consistent double teams since Pat Williams. Though a serious ankle injury has hampered him the past two years, Stroud is only 30 and capable of finding a second wind. He plays with great leverage and quickness for a 306-pounder.
Paul Posluszny has only completed two NFL games, but he could be the type of linebacker worth protecting with blocker-eating linemen. The famed Nittany Lion is fast and assertive, and he's going to be a very industrious tackler once he learns to take more proficient angles in pursuit. He'll almost certainly be better than utility backup John DiGiorgio was filling in last season.
Ko Simpson is not a star, but it's either him, George Wilson or Bryan Scott. Considering he has a brighter future and makes good enough reads, the Bills will take their chances with the developing former fourth-round pick.
All defensive players seem to get better when the four linemen in front of them are causing a stir. Buffalo employs a Cover 2, which means they ask their interior linemen to shoot the gaps. But the Bills are not the Colts; the defensive tackles Buffalo has––Stroud, along with Kyle Williams and Spencer Johnson––are more equipped to tie up space than gain penetration. 2006 first-round draft pick John McCargo shows fleeting bursts of quickness off the snap, but not often enough to compensate for the liability he poses against the run. Expect McCargo to fight with run-defending specialist Johnson for top backup duties behind Williams.
Improvement from the defensive tackles will benefit the familiar faces on the edges. Last season, Aaron Schobel––who has more sacks since 2003 than anyone in football other than Jason Taylor––reached the quarterback only 6.5 times. Though he had signed a bank-breaking long-term contract prior to training camp, his motor did not sputter. Schobel simply finished fewer plays in '07. He was still a constant nuisance in the backfield––and he'll be that again in '08.
Schobel has never had great players opposite him. Chris Kelsay is as average as they come, and Ryan Denney is simply Kelsay in a different jersey. The Bills would love to see third-round rookie Chris Ellis step in on third downs and infuse the left side with the pass-rushing energy that's long been lacking.
With Posluszny in the middle, less will be demanded of the linebackers on the outside. Strongside guy Angelo Crowell made 126 stops last season, though only two behind the line of scrimmage. Crowell is athletic, but he must do a better job at unshackling from blocks. He's proven his commitment to his craft: over the offseason, he postponed his honeymoon just so he would not miss team workouts.
Kawika Mitchell will be a huge addition on the weak side. For one, his presence could prompt third-year pro Keith Ellison to regain the form he showed as an emergency starter in '06. For two, the Super Bowl XLII champion is one of the few players on this team who has won something at the pro level. Mitchell is an intelligent leader who elevates his game in crucial situations.
In addition to Ko Simpson, the Bills feature another third-year pro at safety: Donte Whitner. The undersized but over-caffeinated first-round pick loves to play fast and furious. Whitner will recklessly throw his weight into a tackle, even though he lacks the strength to do serious damage. He's actually more effective lining up in the box.
The Bills don't ask for much from their safeties in coverage. That's okay considering Buffalo's trio of cornerbacks. First-round rookie Leodis McKelvin is expected to be a star right away. Scouts rave about McKelvin's natural coverage and playmaking skills.
The Troy product won't have to match up against No. 1 receivers on a weekly basis. Those chores fall to Terrence McGee. While less aggressive when facing speedy opponents, McGee is a gambling route jumper who has a big-play mindset. He broke up an NFL-high 21 passes last season and also snatched four interceptions.
Undrafted fifth-year pro Jabari Greer did not get enough praise for the job he did in 2007. Greer hovered near shutdown status as a stifling man-defender. In nickel packages, the Bills may want to consider playing him on the outside and sliding McGee into the slot. The depth behind Greer is first-rate. Williams James is an able defender who brings starting experience from the NFC East. Fourth-round rookie Reggie Corner will be a project, though the Bills remember him as the guy who held James Hardy to two catches in the Akron-Indiana game last year.
Special Teams
Assistant coach Bobby April is the NFL's sultan of special teams. April routinely has some of the league's best coverage and return units. Last season, the Bills were No. 1 in both punt coverage and return. Roscoe Parrish set an NFL record with 440 punt return yards en route to posting a league-leading 16.3 average. He also averaged 240 yards on kick returns, and had one of his two touchdown returns.
Brian Moorman averaged only 40.8 yards per punt, but that was by design. His net of 37.6 tells you what kind of coverage he got. Rian Lindell has been the league's most accurate kicker over the past two seasons, successfully converting 47/52 field goal attempts. That's not easy when you play your home games in Ralph Wilson Stadium.
Bottom Line
The Bills are making strides; an appropriate goal would be to reach the postseason for the first time this decade. If everyone stays healthy, they'll be in the running. At the same time, it's important that Buffalo keep preparing to peek in a few years.
Myth Buster
J.P. Losman is a much better scrambler than Trent Edwards
It's almost a neck and neck tie. Losman may have the slightest edge, but as you're about to read, it's academic. There are two reasons people think Losman appears to be the better running quarterback: one, he is smaller (6'2", vs. 6'4"), which makes him look quicker; two, when he scrambles, he often tucks the ball. When Edwards scrambling, he maintains his throwing posture and keeps his eyes downfield. This allows him to be a dual threat, as opposed to just a runner.
How important is all this? Not very. Losman ran 20 times for 110 yards (5.5 average) last year. He fumbled twice (one of which was lost). Edwards ran 14 times for 49 yards (3.5 average). He had one fumble that Buffalo recovered.
Open Thought
I think Thomas Friedman is right––the world really is flattening. Because of this, I don't mind globalization. Why fight the inevitable?
However, when it comes to football leaving our U.S. borders, I do mind. I'm as fearful of this change as Ann Coulter is of any change. Simply put, I don't want football sneaking outside our country. Sure, on the bright side, globalized football could, in the very long run, spell the demise of soccer (there's no way any culture can fully understand both sports and not agree that Real Man's Football is superior). But that's not worth it.
There's a deep sense of Americanism to our game. I'd like to keep it that way.