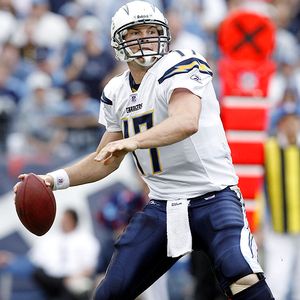 By Andy Benoit, www.NFLTouchdown.com
Predicted: 1st
2007 Record: 11-5 (1st AFC West)
Head Coach: Norv Turner (2nd year)
Roster Quick View
*rookie
**new veteran
Offense
QB: Philip Rivers Only 6 months removed from reconstructive knee surgery, though appears to be good to go. Amazing.
RB: LaDainian Tomlinson Finally has some naysayers after a disappointing end to last season. At 29, he's still in his prime, which means he's still the best RB in football.
WR: Chris Chambers Inconsistent from game to game, though partly because defenses tend to focus on him. Can really stretch the field.
WR: Vincent Jackson Ideal frame (6'5′, 241) and skill set for a WR. Had 18 receptions for 300 yards in postseason coming out party last year. Could be a star.
TE: Antonio Gates Makes better adjustments to the ball than any TE in the game. Recovery from toe surgery has been slow though.
TE: Brandon Manumaleuna Essentially a sixth offensive lineman. Chargers plan to use more 2-TE, single back formations in 2008.
LT: Marcus McNeil Powerful two-time Pro Bowler entering his third season. Coaches are extremely pleased about his offseason improvements.
LG: Kris Dielman The best guard in the AFC not named Alan Faneca.
C: Nick Hardwick Likely to begin the season on PUP recovering from March foot surgery. A critical component to the O-line.
RG: Mike Goff In his 11th year and still going strong. Very strong, in fact. Chargers love to pull him to the left side in the run game.
RT: Jeromey Clary Adequate starter down the stretch last season. Must fend off 10th-year veteran L.J. Shelton for his job.
——————————-
QB: Billy Volek Could have pursued a starting job somewhere else but chose to re-sign for $9 million over three years. Good move for all parties.
RB: Darren Sproles Return specialist and third-down option. Will share the "replacing Michael Turner" duties with third-round rookie FB Jacob Hester.
FB: Andrew Pinnock No Lorenzo Neal, but he'll do. That is, if his surgically repaired knee allows. So far, it hasn't.
WR: Buster Davis Fantastic skills for a slot role, though he faded away as his rookie season wore on.
WR: Malcolm Floyd Can go long on occasion but isn't going to push for anything more than a No. 4 job.
OL: Cory Withrow His nine years of experience should pay off when he fills in for an injured Nick Hardwick to start the season.
Defense
LDE: Igor Olshansky As brutish as his first name suggests. One of the better run-defending DE's in football.
NT: Jamal Williams When he's right, he's the league's most ravenous NT. But after surgery on both knees in spring, and 10 seasons under his belt, it may be time to limit his snaps.
RDE: Luis Castillo The preeminent 3-4 NFL defensive end. Great energy and efficacy against both the run and pass.
LOLB: Shaun Phillips Fifth-year player with Pro Bowl ability. Extremely fluid, particularly as a pass-rusher.
LILB: Stephen Cooper Stout as can be in taking on blocks; does an excellent job of holding down the middle. Will serve a 4-game suspension for banned substance to start the season.
RILB: Matt Wilhelm Second on the team in tackles last season, but the most overlooked member of the defense. The less he stands out, the better he's doing his job.
ROLB: Shawne Merriman Attracts more attention than any pass-rushing linebacker in the game. Has 39.5 sacks through his first three seasons.
CB: Quentin Jammer Underrated. Doesn't make a ton of big plays because receivers hardly get open against him.
SS: Clinton Hart Inconsistent, though certainly worthy of a starting position. Not lacking in confidence, which is a good thing.
FS: Eric Weddle Multifaceted weapon who could become a poor man's Troy Polamalu. Chargers will ask him to focus on coverage in '08.
CB: Antonio Cromartie Registered an astounding 12 interceptions and 20 passes defensed in 11 starts last season (including playoffs). Speed and length make him lethal.
—————————-
DL: Jacques Cesaire Nothing special, though someone you can feel comfortable plugging in.
LB: Derek Smith** Thirty-three-year-old veteran signed for his experience in a 3-4. Will start for the suspended Stephen Cooper in September.
NB: Antoine Cason* First-round pick whom the team hopes can handle the slot defending load. High character guy.
Key Players Acquired
C Jeremy Newberry (Oak)
OT L.J. Shelton (Mia)
LB Derek Smith (SF)
Key Players Lost
CB Drayton Florence (Jax)
S Marlon McCree (Den)
FB Lorenzo Neal
OT Shane Olivea (NYG)
WR Eric Parker
K Dave Rayner
RB Michael Turner (Atl)
Chargers GM A.J. Smith almost always eschews the free agent market. This year he signed three players, all of whom have a decade of experience. Newberry can't play anymore, but he's a good safety valve to have while Nick Hardwick's foot mends. Shelton started 16 games for Miami last season and can stabilize the RT position in a moment's notice. Smith will start the first four games while Stephen Cooper serves a suspension. Don't be shocked if Smith winds up taking Matt Wilhelm's job after that.
Florence was very good in the slot, though they like first-round pick Antoine Cason. McCree was sliding downhill. Olivea got a big contract and then stopped competing. Neal's leadership will be sorely missed. Turner was valuable though they have the guys to replace him.
2008 – San Diego Chargers

Rd

Sel #

Player

Position

School

1

27

CB

Arizona

3

69

FB

Louisiana State

5

166

RB

Texas-El Paso

6

192

CB

Boston College

7

234

T

Texas A&M
Cason is expected to handle the nickel duties right away. San Diego admired his character. How many student athletes actually run their own charity in college? Hester brings big-game experience from LSU. He's a lot like St. Louis's Brian Leonard: an undersized FB with RB skills. He'll become a very good backup to LT. Thomas will have a chance to earn that role as well, though it will take him a year or two. Tribble and Clark face fairly long odds.
San Diego Chargers 2008 Preview Report
The San Diego Chargers are like a Porsche with a donut tire. They look good. They are good. Really good, in fact. But you can't help but notice the awkward apparatus cheapening the front passenger side.
It will be a shame if this team doesn't hoist a Lombardi Trophy sometime during this era. The talent on this roster is immense. Simply put, the Chargers have a lot of the game's best players.
LaDainian Tomlinson, even at 29, is the NFL's best running back. Many believe that Antonio Gates is the best tight end. Some will tell you that Marcus McNeil is the league's best young left tackle. Fewer will say–though it could be more accurate–that the man next to him, Kris Dielman, is the game's best guard. (This is certainly true when Dielman is on the move.)
Dielman, center Nick Hardwick and right guard Mike Goff make up the game's best interior blocking trio. Factor in McNeil and it's plausible that this is football's best offensive line.
There's more. On the other side of the ball, Shawne Merriman could be the NFL's best pass-rusher. And if not for Richard Seymour, Luis Castillo would be the best 3-4 defensive end. When healthy, Jamal Williams is widely considered the game's best nose tackle. And, after recording 12 interceptions in 19 games last season (in just 11 starts), you'll soon begin hearing that Antonio Cromartie is the league's best cornerback. (Not yet though.)
By the way, the rest of San Diego's roster forms what could be football's best supporting cast. And the front office features perhaps the league's best general manager (A.J. Smith).
Yes, the Chargers are a fine looking Porsche–the type that draws the ire of motorcycle cops, the lust of materialistic women and the jealousy of nine-to-five Joes.
But there's that donut tire. You're not supposed to drive on those things for more than 30 miles. And high speeds aren't recommended.
Why does San Diego have it? Take a look at their training room. For every great player listed, there seems to be at least one key guy either on, or just coming off, the injured list.
Tomlinson finished last postseason on the bench with a sprained MCL. Though some critics ignorantly questioned his toughness, the sore knee was no minor ordeal. L.T. appears fine now after sitting out the early part of spring.
Gates was hurt in the postseason as well. He dislocated his toe in the Wild Card round. The injury required surgery, which kept him on the shelf throughout the offseason. Originally hoping to return for training camp, Gates is now targeting the regular season opener.
The offensive line will be missing Pro Bowl center Hardwick early in the year. He missed four games with a broken foot last season. San Diego's medical staff erroneously decided that a month or two of offseason rest would be sufficient for healing Hardwick's wheel. It wasn't. The fifth-year veteran went under the knife in late March, which put him two months behind schedule as he recovers for the season. Oops.
Castillo is healthy:.for now. He's missed six games in each of the past two seasons, mainly with separate high ankle sprains. The man taking up all the blocks next to Castillo is not so healthy. Williams had arthroscopic surgery on both knees during the offseason–and it wasn't his first operating experience. Complicating his recovery are his weight (348) and age (32). He's expected to be a Go come Labor Day, but there's a permanent caution light hanging over him from here on out.
Merriman missed workout time because of offseason knee surgery, though he appears healthy now. The Chargers need him–especially with linebacker leader Stephen Cooper suspended for the first month of the season (banned substance).
San Diego's mash unit doesn't include strictly their "best players." Starting fullback Andrew Pinnock is still on the mend after knee surgery. Same goes for second-year linebacker Anthony Waters. Kicker Nate Kaeding was also banged up for awhile. Turns out, he played on a broken plant leg last January.
Oh, speaking of that, forgot to mention: the quarterback, Philip Rivers, is coming back from a torn ACL that he played on during the AFC championship. That's kind of a big deal. The only thing more remarkable than his toughness down the stretch might be his speedy recovery from reconstructive surgery. Six months after his operation, Rivers is essentially practicing at full strength. What was that movie Bruce Willis was in with Samuel L. Jackson a few years ago? Unbreakable?
Rivers claims he sometimes doesn't even remember which knee he had repaired (left). That might change once opponents start chasing him. The Chargers know this–that's why they re-signed Billy Volek to be a $3 million a year backup through 2010.
Head coach Norv Turner is the man driving this donut-tired Porsche. A year ago, this was thought to be a recipe for disaster. Turner arrived in San Diego with a sub-.500 record and a reputation as a waffling doormat. The critics–including yours truly–were on him from the get-go. San Diego's 1-3 start didn't exactly assuage the tribulation. Even the Charger players themselves were more than a little distraught. Tomlinson's weekly press conferences had the milieu of a funeral. Had it been December, you'd have sworn Tiny Tim had just died–and that the rest of humanity was next. Players were using phrases like "must win" and "before it's too late." And some were privately and publicly calling out teammates.
But through it all, Turner, frustrated yet focused, stayed the course. Sure enough, his Charges went 10-2 after that, reached the AFC title game (despite all the injuries) and established themselves as one of the leading favorites in 2008. Now, instead of being vilified by fans, Turner is simply overlooked. That may change if he can help this patched-up team fulfill its lofty promise.
Offense
It's not unheard of for a quarterback to perform well coming off reconstructive knee surgery; Carson Palmer did it just two years ago. Unlike others who have struggled (Donovan McNabb or Daunte Culpepper, for example) Philip Rivers, like Palmer, is a genuine pocket passer. His 6'5″ height allows him to see over linemen, further minimizing the amount of movement he asks his knee to endure.
Rivers, however, does not have Palmer's picturesque throwing mechanics. Since hoisting a regulation-sized football at too young of age, Rivers has had a throwing motion more akin to a shot-put. It hasn't been a problem through his first two seasons as a starter, but that could change if he's unable to firmly plant his left knee.
The status of Antonio Gates will also be a critical factor to this offense. The Chargers have an excellent front line, though a big reason why Rivers took only 15 sacks last season was the presence of the All-Pro tight end. Defenses must be judicious in blitzing San Diego because often the blitzers are linebackers tasked with double-teaming Gates.
At 100 percent, Gates is a pass-catching dynamo over the middle and near the sidelines. At less than 100 percent, he's liable to be a slow route runner who struggles with his cuts (see the playoff loss to New England).
Gates is Rivers's go-to-guy and safety valve. If he's unavailable or ineffective, San Diego's other receivers will have a difficult time getting open, and Rivers will be forced to bide more time when dropping back (something his left knee may not appreciate).
With this in mind, the breakout of fourth-year wideout Vincent Jackson comes not a moment too soon. After three years of inexplicable mediocrity, the 6'5″, 241-pound Jackson emerged as a dangerous weapon last January. A lanky frame makes Jackson a long-strider, allotting him tremendous speed given his bulk. As long as he's not dropping passes, Jackson can stretch the field and also make chains-moving catches in traffic.
Chris Chambers spent two years playing in Norv Turner's system before arriving in San Diego last October. In 10 games with the Chargers, Chambers had 35 receptions for 555 yards. With his ability to go deep against man or zone, expect him to be somewhere around 900-1,100 yards receiving in 2008.
Chambers's arrival relegated first-round pick Buster Davis to the slot–a role more commensurate with the former Bayou Bengal's present ability. Davis has enticing quickness and change-of-direction speed, but he needs to be more assertive in executing his assignments. The Chargers believe that new receivers coach Charlie Joyner–one of the most respected route runners of all-time–will do wonders for him. Davis will have plenty of chances, as neither Malcolm Floyd nor Kassim Osgood figure to push for much playing time.
One potential pass-catching option, however, is second-year pro Legedu Naanee. A quarterback-turned-receiver at Boise State, Naanee was essentially a non-blocking H-back for the Chargers last year. He's listed at wide receiver this year. If the fifth-round pick improves his awareness, he could find a meaningful place in this offense.
Naanee can line up at tight end, though if Gates is unable to start, Scott Chandler, who was drafted a round ahead of Naanee last year, will get the nod. Chandler offers the receiving abilities that 288-pound blocker Brandon Manumaleuna lacks. It's unlikely that Chandler will explode in '08. If he starts, Rivers will simply throw more passes to LaDainian Tomlinson.
A lot of people overlook L.T.'s receiving prowess. In addition to being arguably the best pure runner in the game, Tomlinson is the league's second most prolific pass-catching tailback (he trails Philadelphia's Brian Westbrook in all categories). Tomlinson has caught 458 passes over his eight-year career.
There are misguided whispers that the 29-year-old is slowing down. A general rule of thumb is, when a player leads the league in rushing and scores 15 touchdowns, he's still at the top of his game. Technically, Tomlinson's days are numbered, but only because he's vowed to retire after 2011.
In 2008, L.T. will remain the most elusive and crafty ballcarrier in the AFC. Aided by his migraine-preventing visor, Tomlinson has near-perfect vision. He'll need it more than ever now that veteran lead-blocker Lorenzo Neal is out of the league. The Chargers have an adequate replacement for Neal in Andrew Pinnock, though the sixth-year pro has struggled to bounce back from offseason knee surgery.
If Pinnock is unavailable, third-round rookie Jacob Hester will see time. Hester is a hearty player with an intriguing future, but at 224 pounds, he's more of a true running back. For this reason, Turner will employ a bounty of two-tight end formations in '08 and watch Hester compete with fifth-rounder Marcus Thomas for Michael Turner's old backup job. Small yet shifty Darren Sproles will get a crack at the third down duties.
Despite the questionable status of center Nick Hardwick, don't expect the San Diego front five to struggle early in the season like it did a year ago. Veteran Cory Withrow is capable of keeping the seat warm for Hardwick. The guys around Withrow–particularly the ones on his left–are poised for monstrous campaigns.
Third-year pro Marcus McNeil is already an upper echelon tackle. He is nimble for 6'7″, 336 pounds and, needless to say, plenty strong. He has well-developed footwork to accommodate his quick drop step, and he creates superb angles in the run game. The Chargers haven't asked McNeil to get out in front much, but that could soon change, given the fullback's reduced role in this offense.
Coaches were excited about McNeil's offseason, and reports say that guard Kris Dielman also turned heads in the weight room. Dielman is exquisite at blocking on the move, mainly because his initial quickness makes him a force at the point of attack. He rarely gets pushed in pass protection.
Right guard Mike Goff also thrives in transit blocking–especially at or behind the line of scrimmage. The Chargers love to pull Goff to the overloaded left side on runs. Right tackle Jeromey Clary will have a chance to maintain the starting job given to him last year. The slightest screw up, however, could prompt San Diego to call on experienced veteran L.J. Shelton.
Defense
Though the Chargers led the NFL in forced turnovers last season, there are some who believe–and not unfoundedly–that coordinator Ted Cottrell could stand to be more aggressive. Being aggressive requires having a reliable secondary. The plethora of playmakers scattered in San Diego's zone-covering backfield should be a suitable green light for Cottrell.
Cornerback Antonio Cromartie gives up a lot of space in coverage, but being überathletic and having a 6'2″ frame, the third-year wonder is more than capable of decreasing that space in a hurry. In fact, Cromartie's cushion is usually a trap for opposing quarterbacks.
Given his 12 picks last season (three of which came in the playoffs), and his playmaking abilities as an interception return artist, it seems almost suicidal for quarterbacks to challenge Cromartie. But, often times, left corner Quintin Jammer leaves them no choice. This play on words is worn out, but:Jammer really lives up to his last name. He doesn't require a lot of safety help and, unlike his counterpart, he yields minimal room to receivers. His stifling approach is ripe for penalties, though Jammer has cut down on flags throughout his seven-year career.
Drayton Florence was allowed to leave over the offseason, which explains the selection of Arizona cornerback Antoine Cason in Round One. Cason is a high-character individual–he even ran his own charity in college. He was also a four-year starter in the Pac-10. Scouts believe Cason is physical enough to play safety, which tells you what kind of run defender he is.
The Chargers already have their young safety: last year's second-round pick Eric Weddle. General Manager A.J. Smith traded a king's ransom for the guy; fans will start to see why in 2008. Weddle is not oozing with any measurables, but he's savvy and swift, which gives him good range in coverage. He has a knack for the ball and can thrive anywhere on the field.
Cottrell needs to let Weddle roam a bit. On the flip side, he needs to tell strong safety Clinton Hart to stay within the scheme. Hart has a mild tendency to play outside himself–something that, obviously, carries punishments and rewards. The Chargers have plenty of playmakers–they don't need Hart to be one.
Depth is a major concern in the secondary. Currently, none of the backup safeties were drafted, and the only reserve cornerback worthy of playing time is Cletis Gordon. Paul Oliver could change that. After being academically ineligible at Georgia (his Wonderlic test score was fine, which suggests that his motivation in the classroom was insufficient), Oliver became a fourth-round pick in the supplemental draft last year. He is said to have decent speed and acceptable physicality.
If San Diego's pass rush holds the keys to the defense, then outside linebackers Shawne Merriman and Shaun Phillips are two of the most athletic janitors you'll ever find. Merriman is good for at least 12 sacks in '08 (and 16-20 is not unreachable). His production is remarkable given how opposing offenses almost never forget about him. The attention Merriman draws is partly what enables Phillips to invade the pocket. This isn't to say Phillips isn't a beast himself.
Second-year pro Jyles Tucker is a name that will surface more in '08. Undrafted out of Wake Forrest, Tucker flashes titillating tools as a blitzer. He's limited in all other realms, which is why he'll be specialist for the next few seasons.
Despite posting the most tackles, the inside linebackers are somewhat insignificant in this defense. Stephen Cooper is a rock in traffic and does a good job at getting everyone lined up. He'll be missed when he serves his four-game suspension (banned substance), though Derek Smith is plenty capable of filling in. Matt Wilhelm is more of a special teams player, but he handles his starting responsibilities just fine.
It's easy for the linebackers when 348-pound nose tackle Jamal Williams is in front of them. Because of his arthroscopic knee operations, Williams will have sat out for most of the seven months prior to the season, but the Chargers wisely believe this will make him more energized come fall. They'll need him to be. There is a substantial drop when big but permeable Brandon McKinney (324) subs for the three-time Pro Bowler.
Luis Castillo is a rare impact player at right end. The first-round pick in 2005 plays with great strength and leverage to anchor against the run, and his best damage is done when his penetration fractures the blocking scheme. Castillo's impact isn't restricted to first and second down; the man had just 2.5 sacks last year but recorded seven in 2006.
Run-stopping end Igor Olshansky is a bit of a talker–but at least he backs it up. Behind Olshansky is Ryon Bingham, a decent player who could maybe start if not for the fact that he has to be on the move in order to make plays. Bingham may push Jacques Cesaire for playing time in '08, though the sixth-year veteran has always been solid off the bench.
Special Teams
Nate Kaeding is healthy after kicking with a broken left leg last season. He's somewhat shaky under pressure, but his distance is good. Punter Mike Scifres netted 40 yards per boot in 2007 and left 36 balls inside the 20. Such numbers are worthy of Pro Bowl consideration (too bad Shane Lechler is in his conference).
Darren Sproles can be a dangerous return man when he's not fumbling. He averaged 27.2 yards per run back on kickoffs last year, and 9.5 on punts. Antonio Cromartie is also lethal in the return game, but he's rarely used in this capacity.
San Diego has two of the game's better special teamers. Gunner Kassim Osgood is a two-time Pro Bowler. He's unhappy about not being a part of the offense, but the Chargers don't care. Long snapper David Binn just received a four-year contract extension. According to the team, Binn has made only one bad snap in his 14-year career.
Bottom Line
The talent is considerable, but so are the caveats. Rivers, Gates, and Jamal Williams are the headliners coming back from injury. If just one of those guys drops off this season, the Chargers won't go all the way. And this says nothing for the plethora of other banged-up contributors. Given the quality of the AFC this year, it makes little sense to put your money on San Diego.
Myth Buster
Antonio Gates it the best tight end in football
Close–he's second best. Tony Gonzalez is still the best. Though Gonzalez is four years older, he has comparable speed and strength to San Diego's three-time Pro Bowler. He also has more receptions and yards over the past four years (granted, Gates more than doubles Gonzalez in the touchdown department).
Both players have excellent hands, and both refer to their college basketball experience when it comes to establishing position on a jump ball. Both are smart and both run good routes. Given their similarities, the tie-breaker is their blocking. Gonzalez has long arms and has improved his technique in recent years. Gates–who often lines up in the slot–is good but not great at the point of attack.
Please understand that this Myth Buster is 100 percent praise for Gonzalez, and 0 percent criticism of Gates.
Open Thought
Strength of schedule is a ridiculous excuse that NFL teams love to make. The fact of the matter is, because your opponents lose when you win, your strength of schedule tends to lighten with your success. Obviously this isn't the only factor. But generally speaking, if a team is good, they'll win regardless of their schedule.
One scheduling element that is not insignificant, however, is west coast-to-east coast road games. The three-hour time-zone switch goes in the wrong direction, making 1:00 games tough.
This in mind, the Chargers have a fairly arduous road ahead of them in '08. They must make four trips back east (Miami Week 4, Buffalo Week 6, Pittsburgh Week 10 and Tampa Bay Week 16). Plus, they'll travel to London to face the Saints in Week 7.