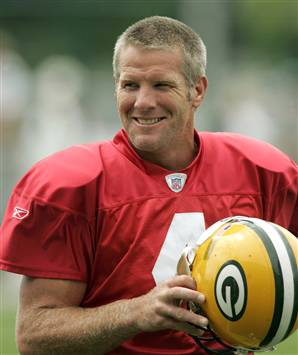 As you all know, Brett Favre was traded to the Jets. And, living in New York, I'm hearing all the glowing reaction on sports radio, Jets fans everywhere in euphoria. But, what exactly does Brett Favre bring? Not much, being perfectly honest. Who on this Jets team excites you? Thomas Jones?
No, Brett Favre is not the player he once was. He's not 28. He makes bad decisions under pressure. He might have a great arm. But at 38, is it still there? Isn't he bound to break down? I might be in the minority here, but Brett Favre has been vastly overrated for the past 3 or 4 years. The Jets are a running team. Coach Eric Mangini is younger than Favre. How does that work? How does a team coach, like Mangini, deal with a diva, like Favre?
This is more of a PR move, than a actual football move. Jets fans are excited. And they should be. But, think about this? Since when has football been an individual sport? One player does not make a team. This isn't college basketball, where one stud makes a team a contender. Football is about winning the war in the trenches. So, all in all, good luck Jets fans. You're getting an old, overrated, over-the-hill, diva QB. Which, now that I think about it, fits perfectly in New York.