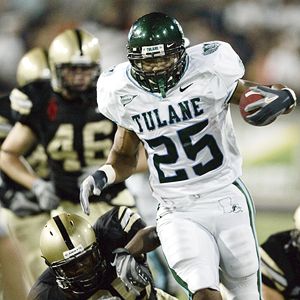 The Bears are in a for sure flux at the running back spot now that Cedric Benson is gone, and that means rookie Matt Forte looks as if he'll be the starter in 2008.  That does not seem to intimidate Forte, who was the MVP of the 2007 Senior Bowl with 59 yards on the ground and 38 yards receiving.  Last season he ran for 2,127 yards and 23 touchdowns, but some are still questioning if he has the breakaway speed to be a big time back in the NFL.
"I'm not going to sit here and doubt myself or my talent or anything," said the 6-foot-2, 216-pound Forte. "I believe I can come in and play. I have the ability, (but) it's going to take a lot of work."  GM Jerry Angelo likes what he has seen from Forte, and had enough confidence to simply dump the bust that was Benson.  "He gives us a big back, a three-down back," Angelo said.  "He's got enough speed to get to the outside, and has the ability to make people miss at the second level."
This does not mean that the team won't at least look at players on the market come July and August.  Look for the Bears to at least take a look at the market, but if it comes down to Forte having to carry the load on opening day vs the Colts, it appears the team will be just fine with that as well.