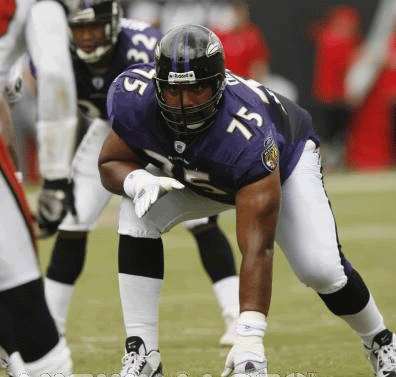 The Baltimore Sun has confirmed that long-time O-lineman Jonathan Ogden will announce his retirement from the NFL on Thursday.  "It took a little while to decide. You just can't make a decision like this overnight. I tried to work out, I tried to practice on the toe," Ogden said. "But it never came back to 100 percent."  It was that toe that cost Ogden part of what will go down as his final season – 2007.
Ogden leaves the game as the best O-lineman in the history of the Ravens.  He was the teams first pick after they moved to Baltimore in April 2006, and at first due to Tony Jones being the teams left tackle, he started his NFL career at guard.  After the team traded Jones in August of 2007, Ogden moved to tackle, a position he would hold over the next 10 seasons for Baltimore.
He made the Pro Bowl in 11 of 12 seasons in the league, and also a Super Bowl ring when the team topped the Giants back in January of 2001.  It was in 2000 that the Ravens make Ogden the highest-paid offensive lineman in NFL history at the time, signing him to a six-year, $44 million extension that includes a $12 million signing bonus.  His spot on the line is expected to be manned now by Jared Gaither.