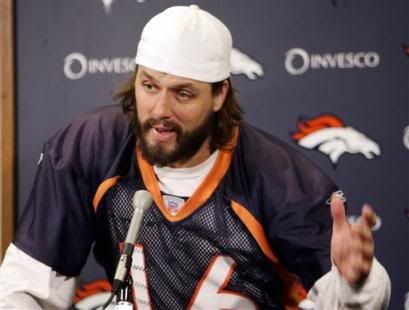 The Buccaneers and now retired QB Jake Plummer have come to a settlement, in which the QB will pay Tampa Bay back $3.5 million from a signing bonus.  If you recall, Plummer never played a down for Tampa Bay, as he was traded to the team from the Broncos, but retired and never took the field for Jon Gruden's squad.
Under the terms of the deal, Plummer will pay the Bucs half of the $7 million in bonus money that the team said it was entitled to collect. As a result, a scheduled grievance hearing has been canceled. If everything works out with the settlement as planned, the Bucs should get an additional $3.5 million credited to their 2009 salary cap.
Plummer played 10 seasons in the league, and his best seasons came after leaving the Cards in 2003 for Denver.  In 2003 in 11 games he threw for 2182 yards, 15 TD's and 7 interceptions with a QB rating of 91.2.  In leading the Broncos to the AFC Title game against the Steelers in 2005, he threw for 3366 yards in 16 games, a QB rating of 90.2, and 18 TD's and 7 interceptions.