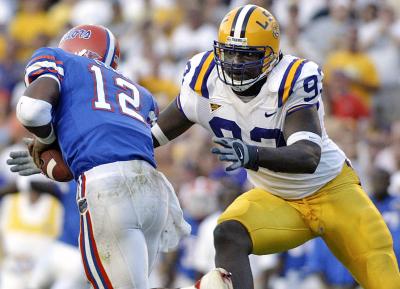 Last season it took some time for the Chiefs to get first round pick WR Dwayne Bowe into camp, and the receiver was behind well into the season.  While the team is hoping to not have a repeat in 2008 with first-round pick DT Glenn Dorsey, so far there has been just a few talks between the Chiefs and Dorsey's agent – Joel Segal.  "We've had conversations, and that's all I can say," Chiefs President Carl Peterson said.
It has never been easy it seems to get a Peterson first-round pick in camp for the Chiefs, as 11 of the teams 16 first-round picks have missed at least some of training camp.  The word from the KC Star is that it looks as if Segal is going to want quite a bit more cash for his client than last seasons #5 pick – the Cardinals Levi Brown got.  The deal Brown got was for six-years that could be worth up to $62 million, just over $18 million of it guaranteed.
Last season for LSU, Dorsey played in 14 games, sacking the QB 7 times and putting up 12.5 tackles for losses.  He won five major awards his final season, including SEC Defensive Player of the Year.