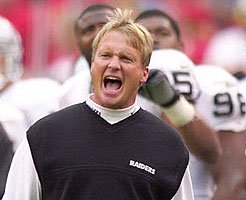 It's another day of news around the National Football League, as some teams start to look ahead to free agency, which kicks off in about two and a half weeks.  Here below are some interesting links of stories around the league today.
Starting quarterback competition for 49ers is wide open – Yahoo.com
Shuan Hill just signed a three-year deal, but from what we've heard, Alex Smith is going to get Mike Martz's full support to be the starter….at first.
Looking Back: The Gruden years left no foundation for the Raiders future and led to this mess – Thoughts from the Dark Side
Leave it to Raider blog to slam a coach that hasen't been there for five years for the fact they stink today!
Dolphins eyeing Howie's kid – FanNation.com
The Fins need all kinds of help, so getting the best player in the draft is not a bad start to the Bill Parcells era.
Oldest Super Bowl player Feagles signs 2-year contract – Pittsburgh Tribune Review
They called George Blanda but he was busy.
Cowboys jinxed by bikini-clad blonde beauty – The Dallas Morning News
A Cowboys cheerleader graces the new SI Swimsuit issue, I wonder if Jessica got a call as well?